My Note
Since I'm quarantined at home and summer is coming, I'd like comfortable, casual clothing. Shorts, pants, shirts, sandals, hoodies, etc. Things that are cute enough to be able to wear out in public once I can go out again, but comfortable enough to be able to wear around the house and on walks through the neighborhood with my son.
---
The Clothes
I actually really liked basically everything the stylist had picked for this box, so it was kind of hard to narrow it down to only eight things. Turns out my preferred personal style is "quarantine-chic". Who knew? Thankfully, for my wallet at least, it didn't all work out. 🙂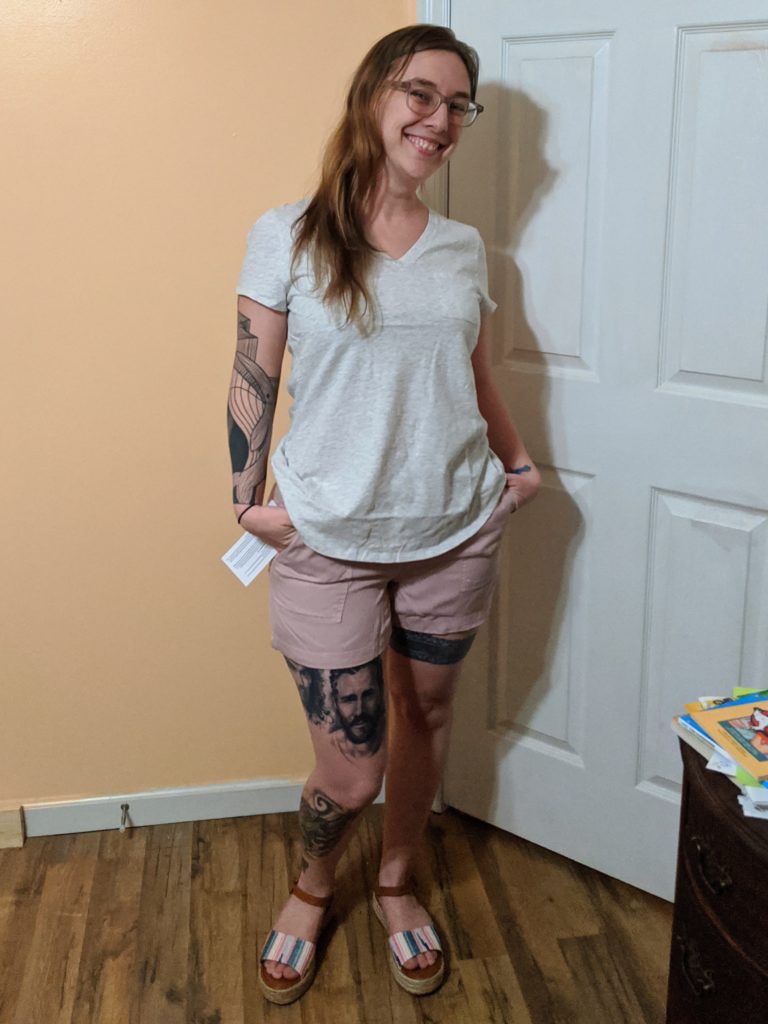 The top is a nice basic t-shirt. It is comfortable, fit well, and only cost $12. I saw no reason not to get it. Plus, it comes in a ton more color options, so I might order a few more at some point in the future.
The shorts, however, were a bit problematic. First of all, I didn't notice in the item description that they run small, so order up a size. They were SNUG. I thought it was my 'rona weight at first, but no. Also, the material was lighter than I was expecting, which was actually a nice surprise. But that combined with the size and color made them a bit see-through. ALSO, and worst of all, everyone that I sent my pictures to had a moment of panic thinking I had no pants on based on the thumbnail of the photos. So they went back. I plan on trying a larger size in a darker color, but I'm not in any rush because, you know…quarantine.
I started out really liking the shoes, but then I kept them on as I tried on various outfits and started to like them less and less. I think it's the horizontal strap across my ankles. I finally decided to return them, which saved me $30+ so I think it was a good call.
---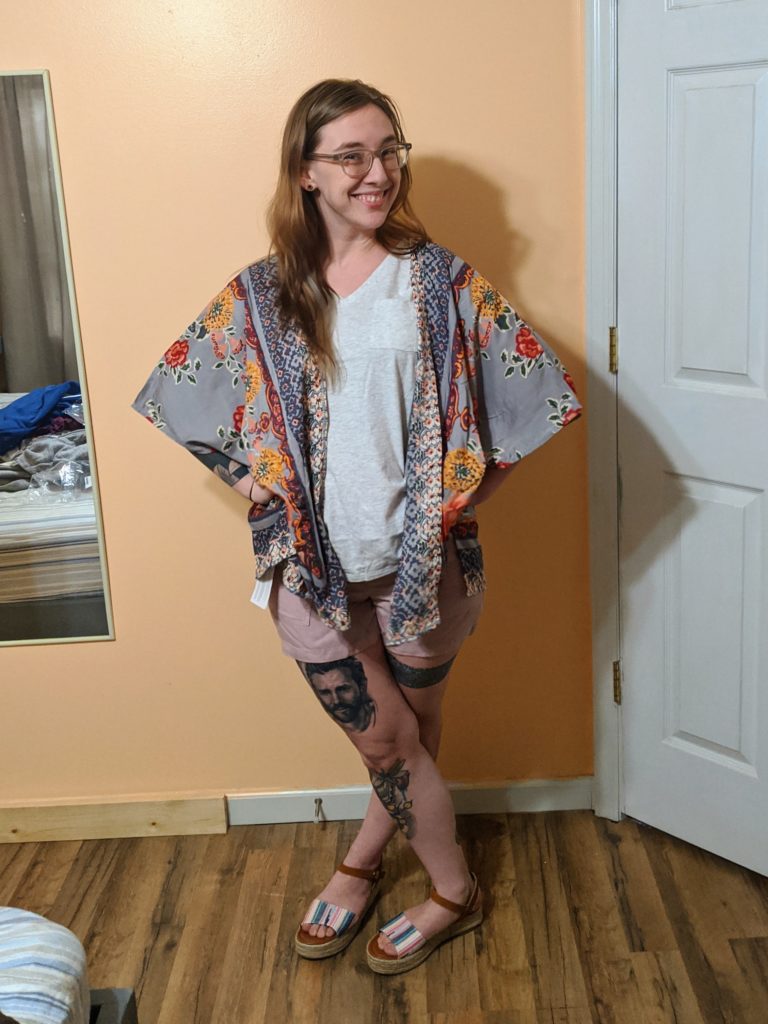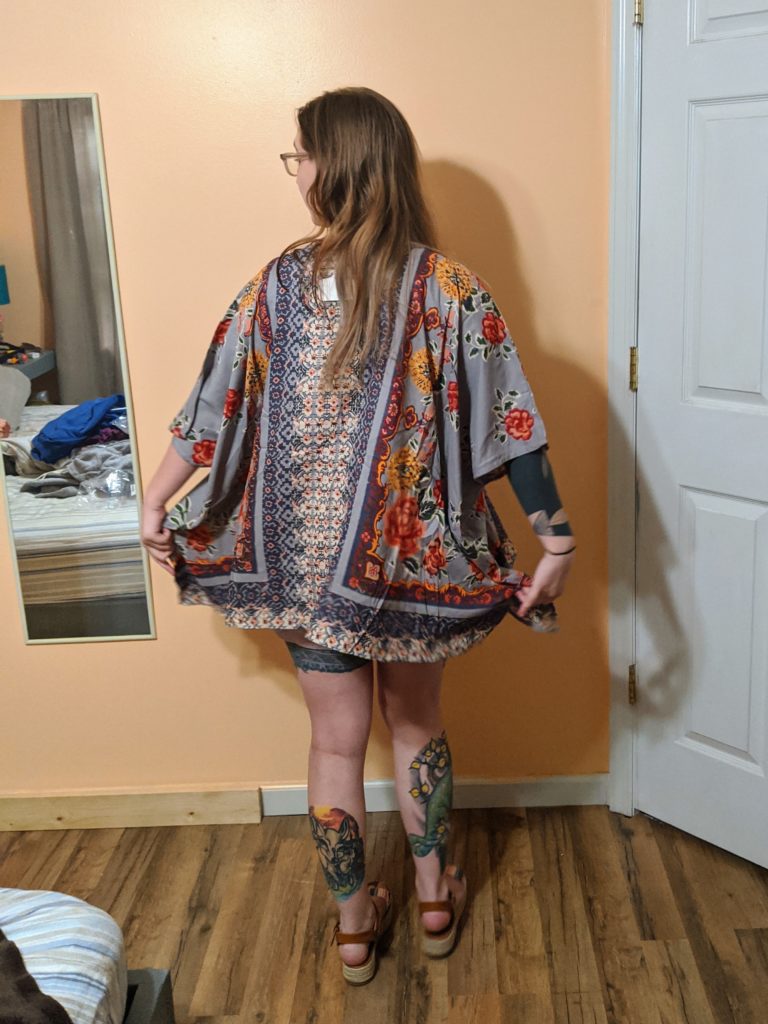 I actually picked all these pieces in the hopes that they would make a full outfit. They do not. But I really liked this "kimono cardigan" thing, so I kept it. I need a new top to wear under it, though, even though I kept the t-shirt. When/if I finally get around to ordering another pair of those shorts, I'm going to go with a dark navy or dark gray that I think will work better with the top. The colors on it were a bit more dark/dull than I was anticipating based on the photos from Amazon, but I didn't hate it.
---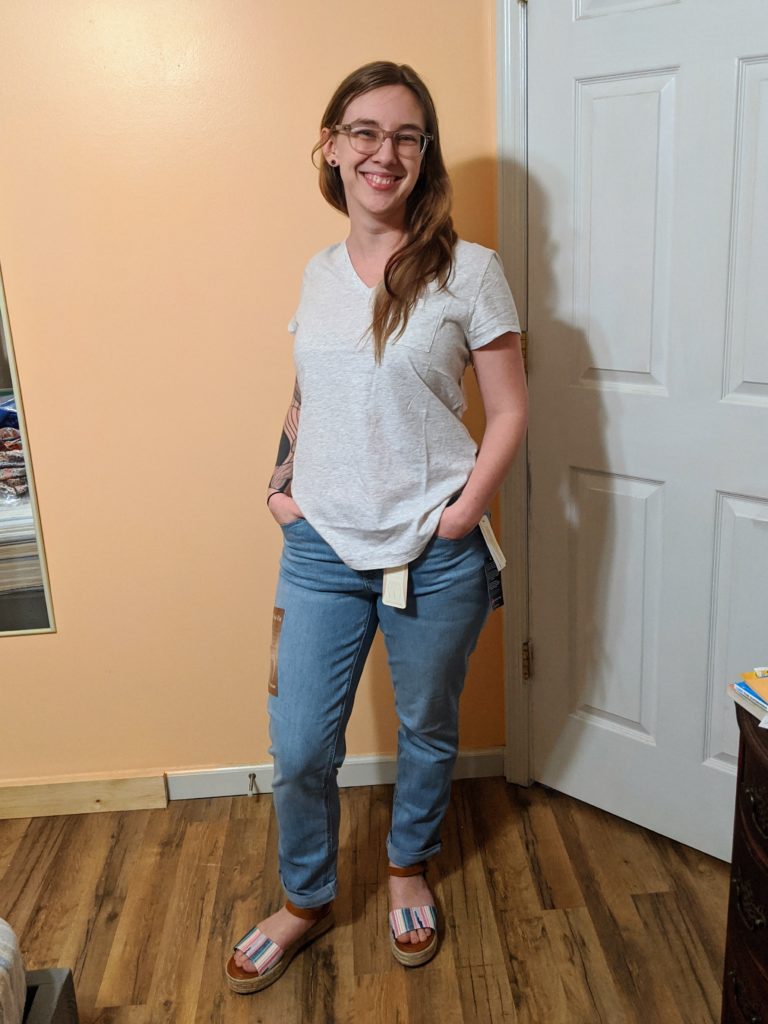 These were nice, comfy, STRETCHY jeans. Like….full-blown elastic waist, but with a button/zipper so you don't feel like it's a full-on jegging situation. I think pairing them with the shoes is what killed the shoes for me, and it also makes the pants look weird in the photos. With better shoes, and possibly another roll on the cuff to get them shorter, they'll look a lot better.
---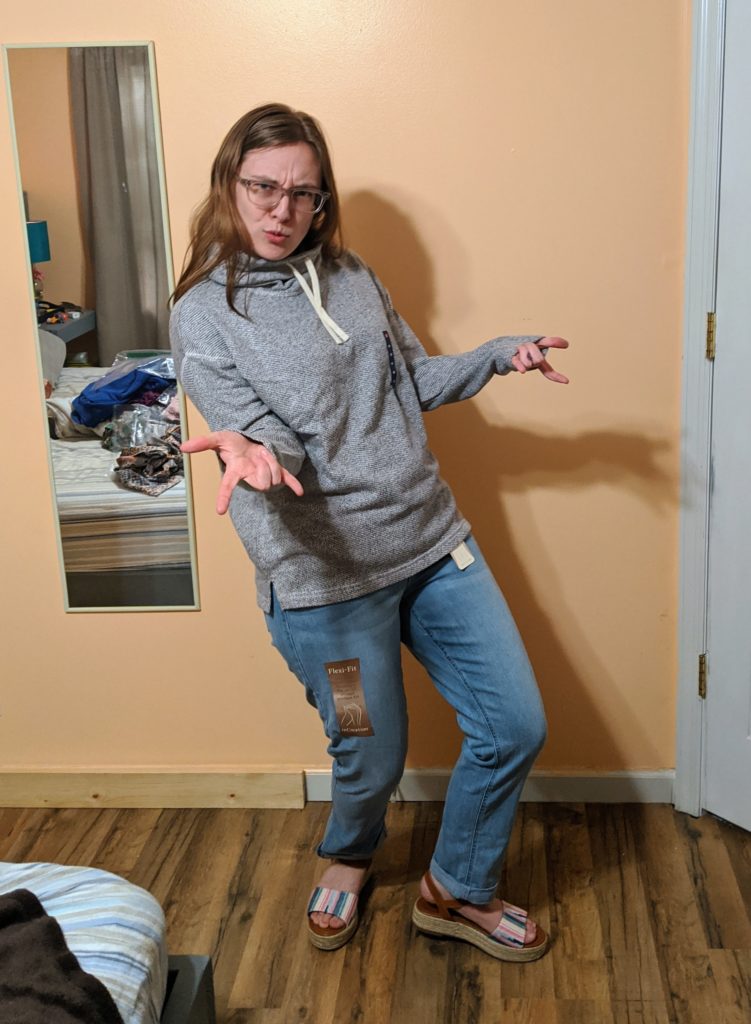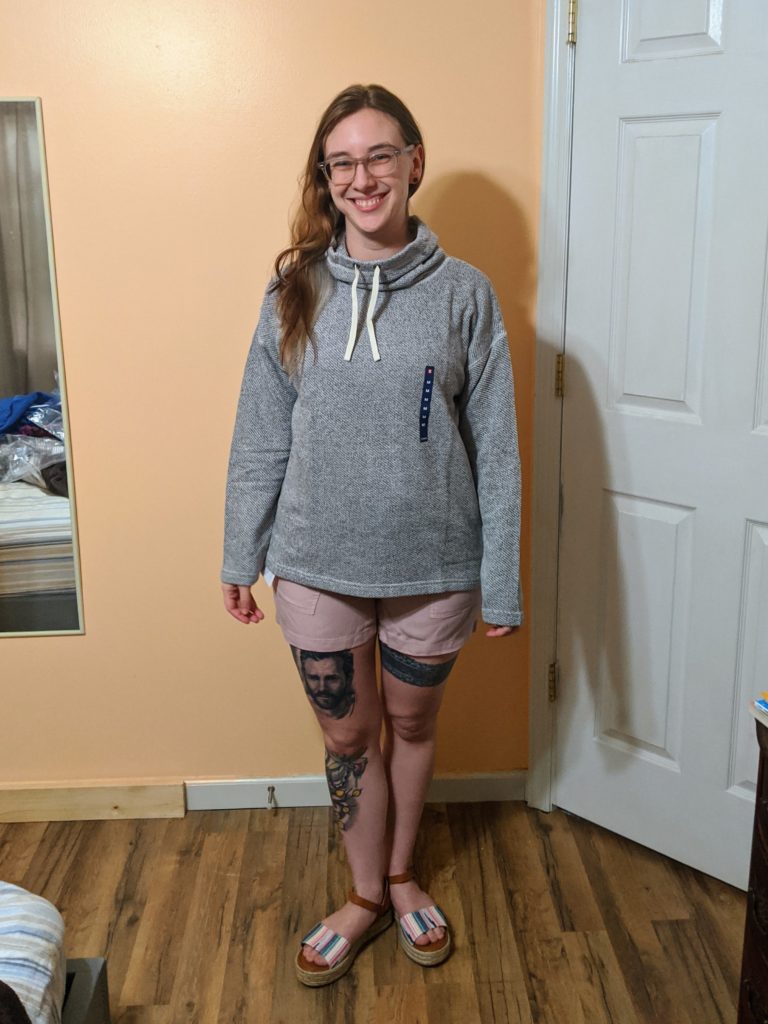 This was a nice enough pullover that I decided to keep it. It's nothing to brag about fashion-wise, but I think it will be great for wearing around the house or at work year-round, and as a lightweight option for cool spring/fall days, or summer nights. I almost got the tan one, but realistically the gray will go with more items in my closet, and is less likely to show stains from food, child, or animal. lol! I don't think it's right for the jeans, and obvs not the pink shorts, but I just wanted to get the photo shoot over with so I could take my bra back off. I think it will look better with darker pants.
---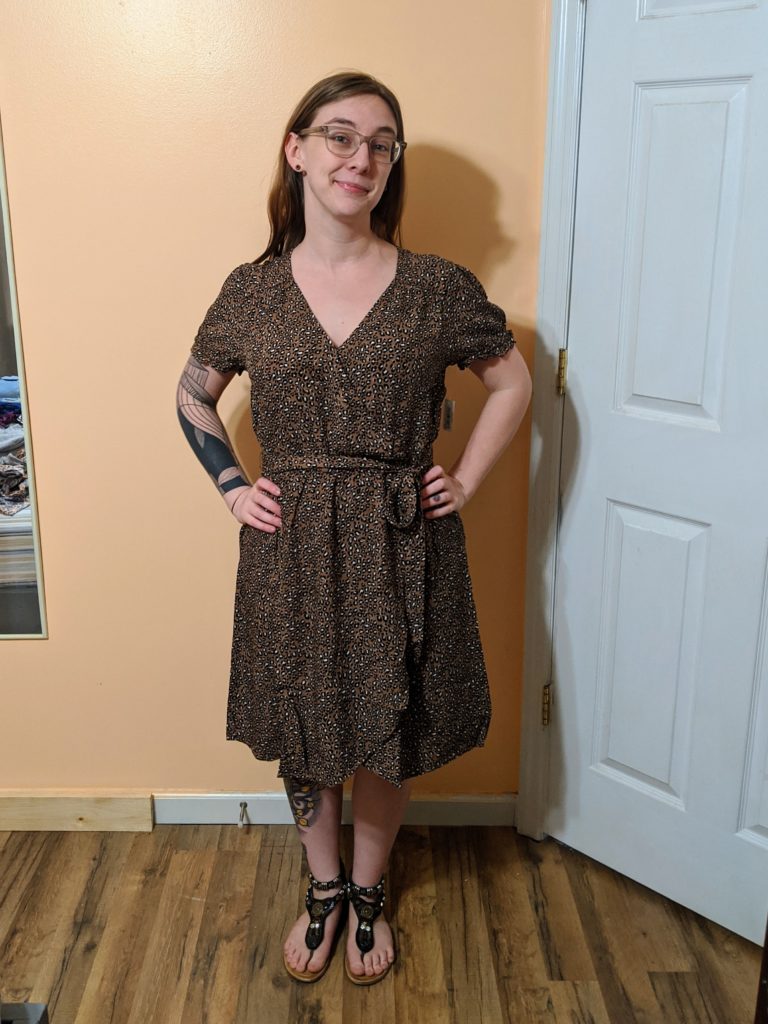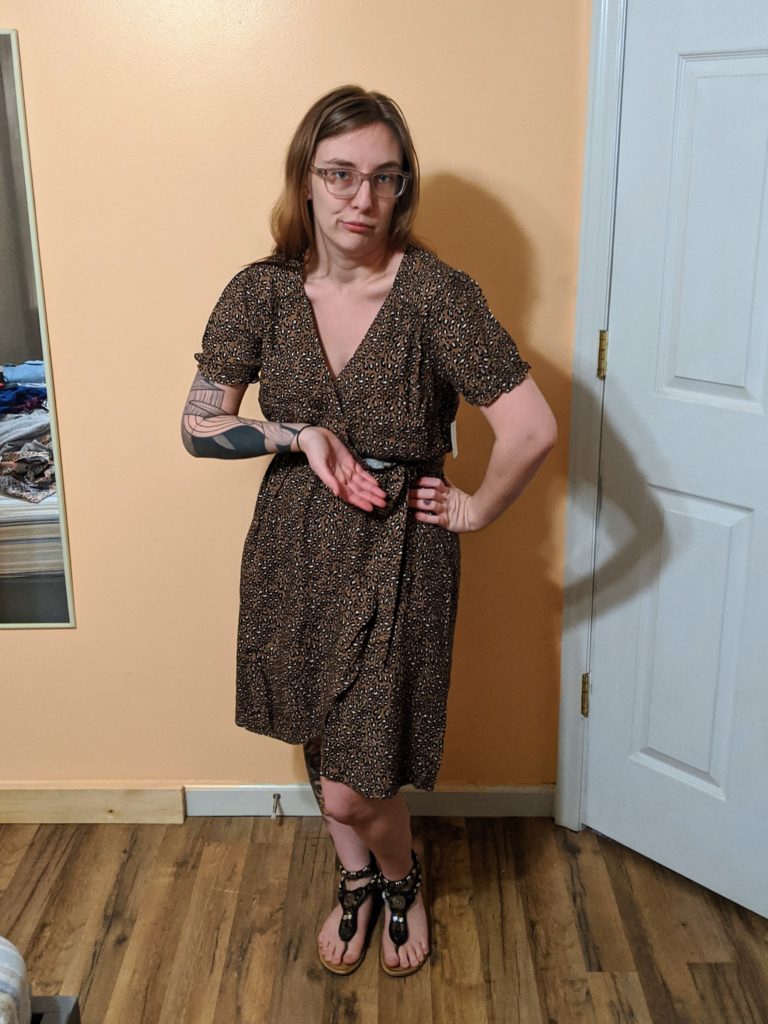 This was the biggest disappointment from the box. I desperately wanted a Carole Baskin dress. DESPERATELY. And I really liked every other print option for this style. But it was a smidge too big, and had this weird…gap. You couldn't really see it if you were facing me directly (unless I slouched like in the second picture), but I could see it looking down, and you could see it from the side. There was also a snap that you could undo to really show off the goods, but it wasn't necessary for me. There was a slight chance that a smaller size would've resolved the issue, but I didn't like it well enough to try to order it again. idk why it's so hard to find dresses that I like, but I'm struggling.
---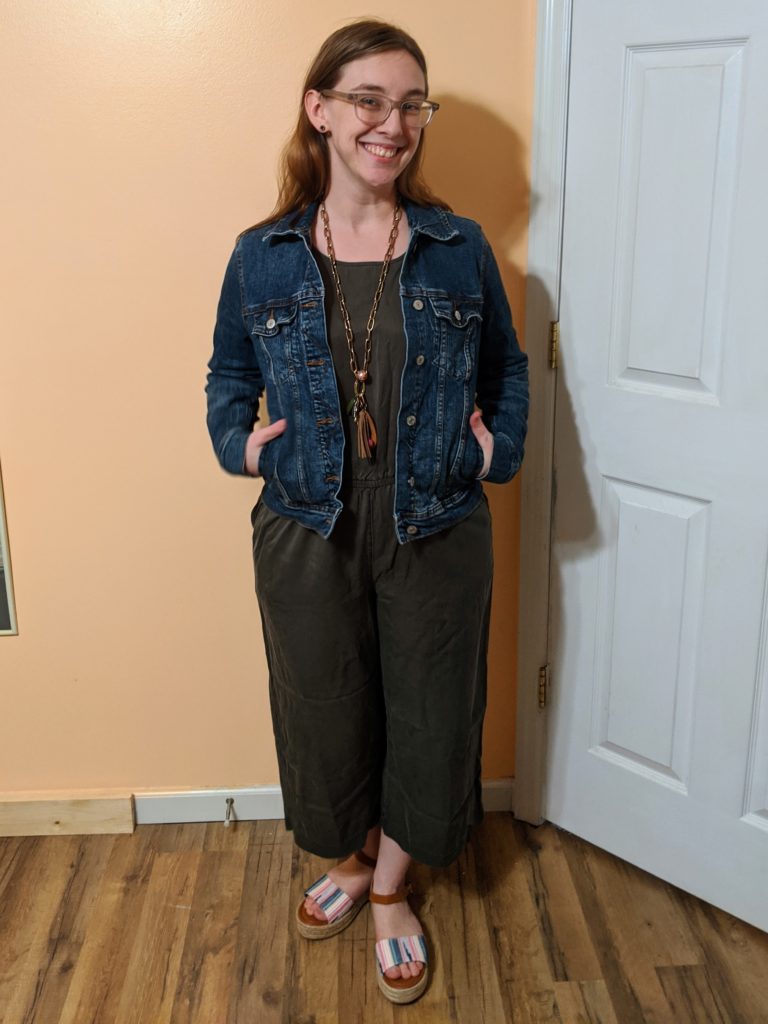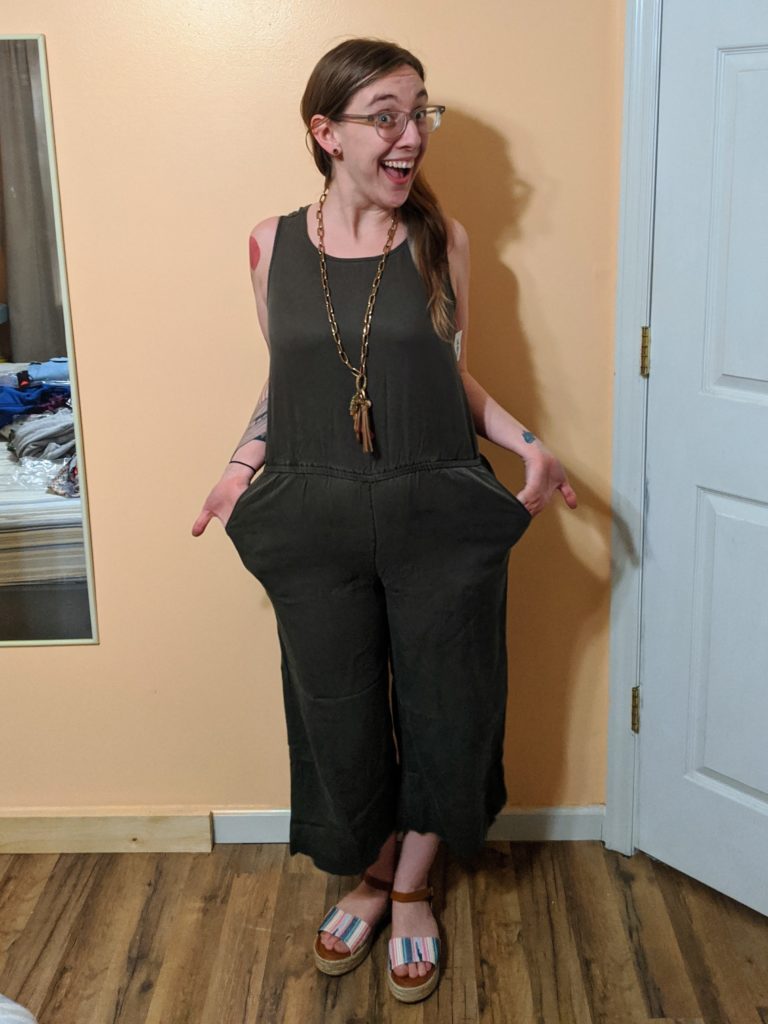 In perfect opposition to my failed Carole Baskin dress, I actually bought a jumpsuit! Never in all my days did I think I would. But it was only $14 and way more cute than I expected. It has the same issues with showing bra straps that I've complained about before, but IT WAS ONLY $14. (Holy crap – I just saw that the current price listed is $40+. I would not have paid that much, for the record.) Also, I was SUPER stoked to discover the pockets, as you can see in the photo. That's what finally convinced me that I needed to keep it.
---
So that's my April Amazon box! I'm kind of over getting boxes of clothes that I never wear, but also getting them is a bright spot in an otherwise very dull quarantine. Plus, once I finally do get to leave my house again, I'll have so many nice new things to wear!! I even tried to get Matthew to sign up for the Prime Personal Shopper because it's the cheapest subscription I get, and has the most reasonably priced clothing options…but they don't have it set up for men yet. -_- Now that would have been a delightful treat for everyone.