I'm suddenly remembering all my flaws from when I was a student. Mainly because I'm actively doing it all over again. I've done three loads of laundry – AND GOT IT ALL PUT AWAY – today. I also cleaned my room. You know why? I have an exam tomorrow. -_- I'M NOT PROUD OF THIS PART OF MY PERSONALITY. I procrastinate like whoa when it comes to school stuff. I don't know if it's better or worse that this is just an audit class. Like…it's not a big deal if I bomb the exam, but maybe if it mattered I would've started studying already? Yeah…probably not. lol! Ugh, and I'm considering going back to school?? That might not be a good idea. lolol
I did finish a project this weekend!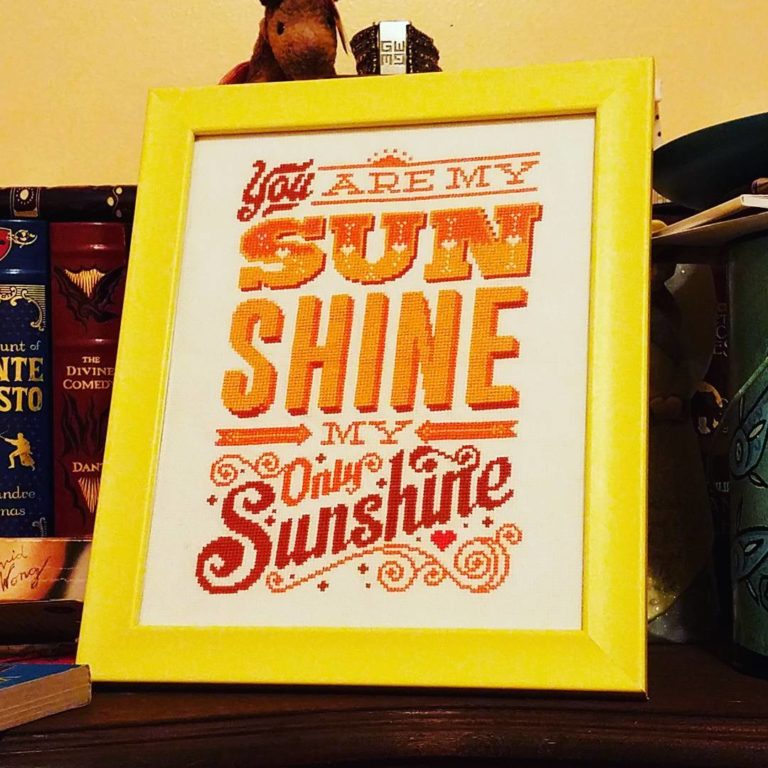 So of course I got cocky and bought THREE more patterns, including the next one in this set. Wade is about to turn 2 and I bought this pattern to make and hang in his nursery. >.> I guess technically it is still his nursery, at least. He's still in a crib, and I still use his changing table. So – nursery. Of course, I still haven't gotten it framed and hung up. I haven't hung ANY art in his nursery. lolol I'm thinking about  totally redoing it, so why hang stuff now?? Oh, it's on my 30 Before 30 list… Maybe I'll save the remodel for when he's 3.
Anyway, I should probably get to studying. Ugh…maybe there are dirty dishes somewhere for me to wash.