I got this recipe from Budget Bytes.
I used Kroger's ClickList for the first time yesterday. It was super convenient! I placed my order on my lunch break and scheduled it to be picked up when I got off work. I didn't have to get Wade out of the car and that's just awesome. Because it's cold as balls right now. There were a couple of mishaps, though…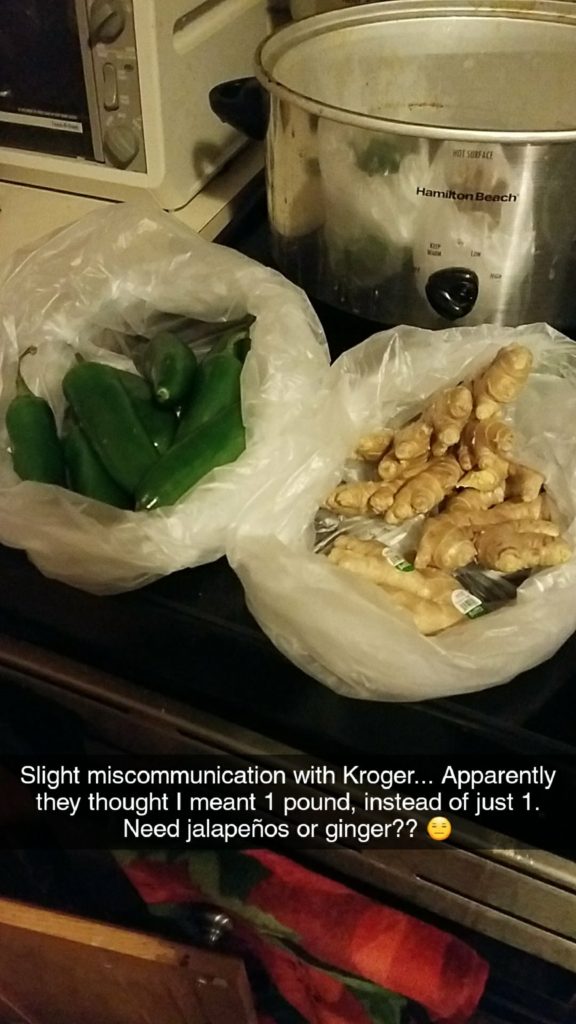 When I was filling out my order, it said "Jalapenos – each" and had a little counter. So I put '1'. Same with the ginger. But when I got my order it had "jalapenos – pound" so….I got a POUND of jalapenos and a POUND of ginger. I need a teaspoon of ginger, y'all. A TEASPOON. I also forgot bananas, but omg can you imagine getting 6 pounds of bananas?? No wonder they're always sold out of bananas!
Anyway, one of my goals for this year is to cook more (which is basically my goal every year, but whatever – keep on keeping on). I started with three easy recipes from Budget Bytes that all involve chicken and two involve tortillas. And none of which require a pound of jalapenos…
I went with the easiest one first – Roasted Corn Quesadillas. Of course, Kroger doesn't sell the amazing frozen roasted corn she was raving about, but they had some canned. So whatever. And since all my recipes needed chicken, I just bought a whole bunch of thighs and cooked them myself. #yolo
If you want to see some good pictures, and get the full recipe yourself, go to her website. I don't have the lighting/camera/time/desire to put that much effort into food pictures. So here's my shitty version: