My Note
I'd love some wide-legged pants with tops and shoes to wear with them. Bright, summery colors and fun patterns. Something to make a statement.
---
Stylist Note
Hi Sarah, welcome back for your 6th Fix! I'm so glad that you loved the styles in your last Fix and I paid attention to your feedback on wanting more variety. I saw your request for wide-legged pants with tops and shoes to wear with them, as well as bright summer colors and fun patterns to make a statement. I didn't have any wide-legged pants or shoes that were perfect for you this time, but I'll be keeping an eye out for future Fixes! I also made sure to send some lower-priced items this time. Since you mentioned making a statement, a printed pair of pants is perfect. I love the colors and print of the OAT New York jeans! How is the fit? Wear them with the Market & Spruce top and a colorful shoe for a pop. I know you love bright yellow, so I couldn't resist the Papermoon top for you!
---
The Clothes
NINE BRITTON: Abigail Brushed Knit Midi Dress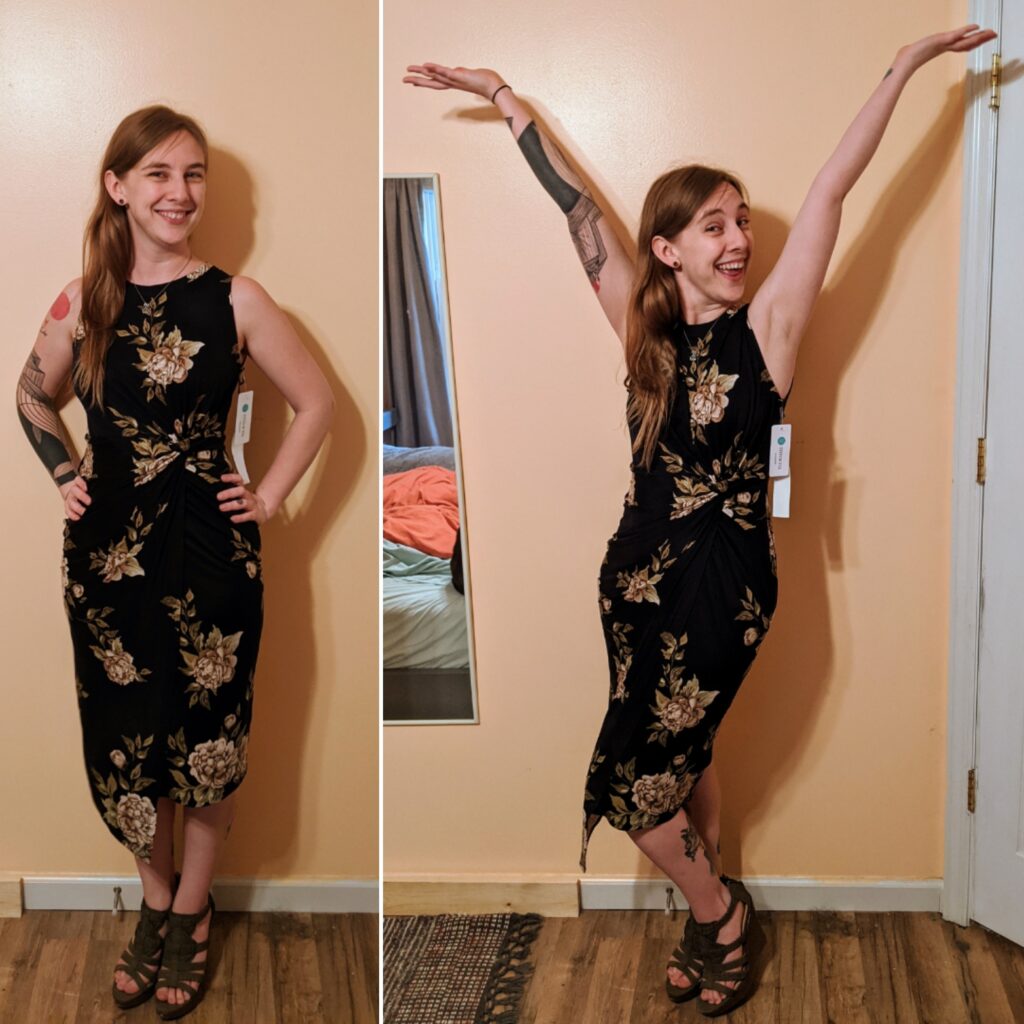 This dress was the biggest surprise, to be honest. I was SUPER not happy when I saw it, because I've been avoiding fitted skirts/dresses. I don't want my legs to feel constricted, and I don't want to be self-conscious or have to buy/wear SPANX. But the actual material on this dress is SO soft and comfy. And the gathering at the waist helps hide any lumps from regular ol' underwear. I'm not sold on these shoes, though…but I don't own anything else that would work any better.
Here were her outfit suggestions with this dress: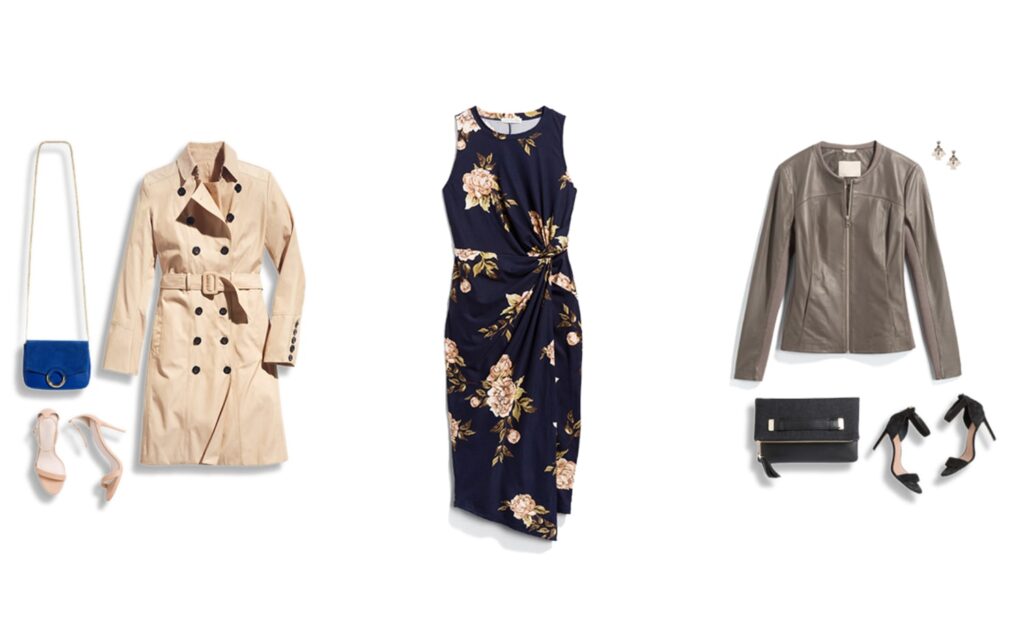 I don't like having the horizontal strap over my ankles, but I do like the slim look of these heels – I'm leaning more toward the tan color over the black, just to try to step out of my comfort zone a bit…I always end up with black heels. But also I need more black heels because the dogs ate my last pair. MAYBE I JUST GET TWO NEW PAIR OF SHOES, THEN.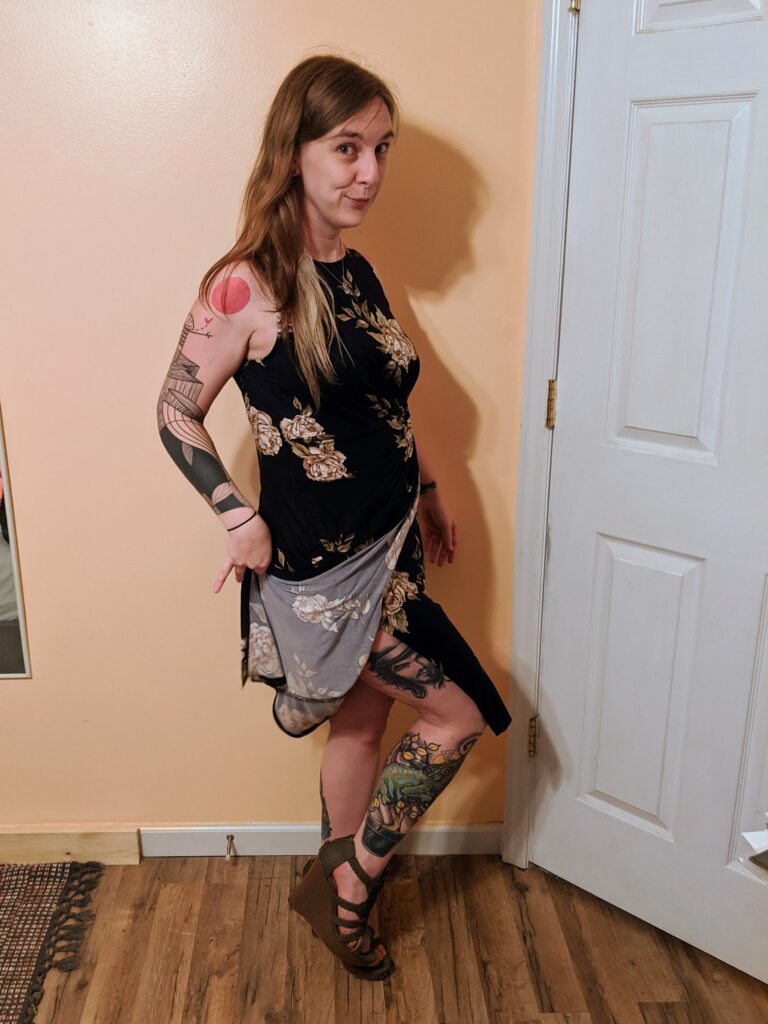 I guess I should also mention that I had been day drinking when we did this photo shoot. The ratio of silly to sincere poses was WAY off-balance this go around.
---
41 HAWTHORN: Augusta Seam Detail Peplum Knit Top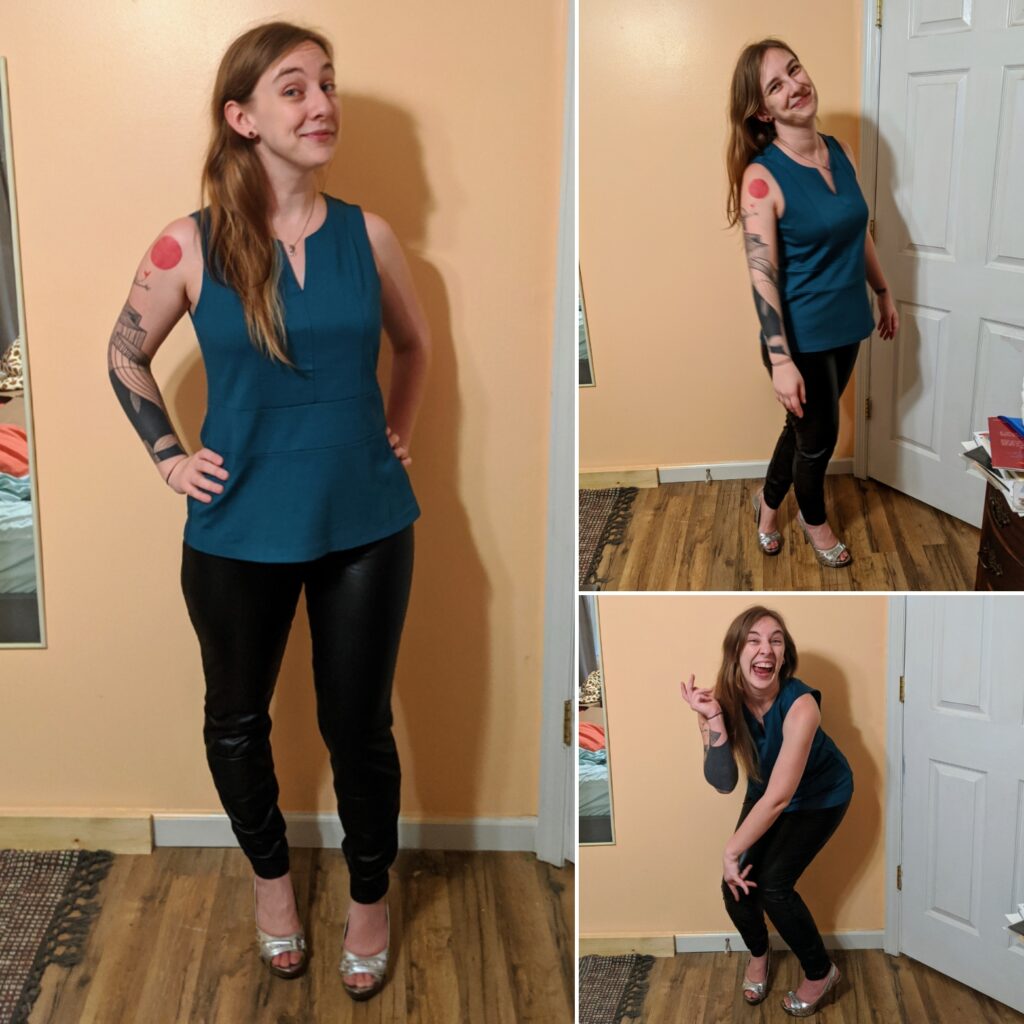 Another surprise. I have sworn up and down that I'll never own a "peplum" top, because they were SO overdone on Project Runway the last season that I watched. And those were usually crazy exaggerated ones that basically look like tiny dresses that you have to wear bottoms with. So as soon as I saw the word "peplum" I was like I'M OUT! But it isn't really as terrible as I thought it would be – and I love the color. Plus it's a good "business" look to go with my pleather pants that I still have only ever worn to try on clothes…and I still need good shoes to wear with. BACK TO THE SHOES – black or tan? black or tan? I do not know. Def feeling like a "both" kind of situation.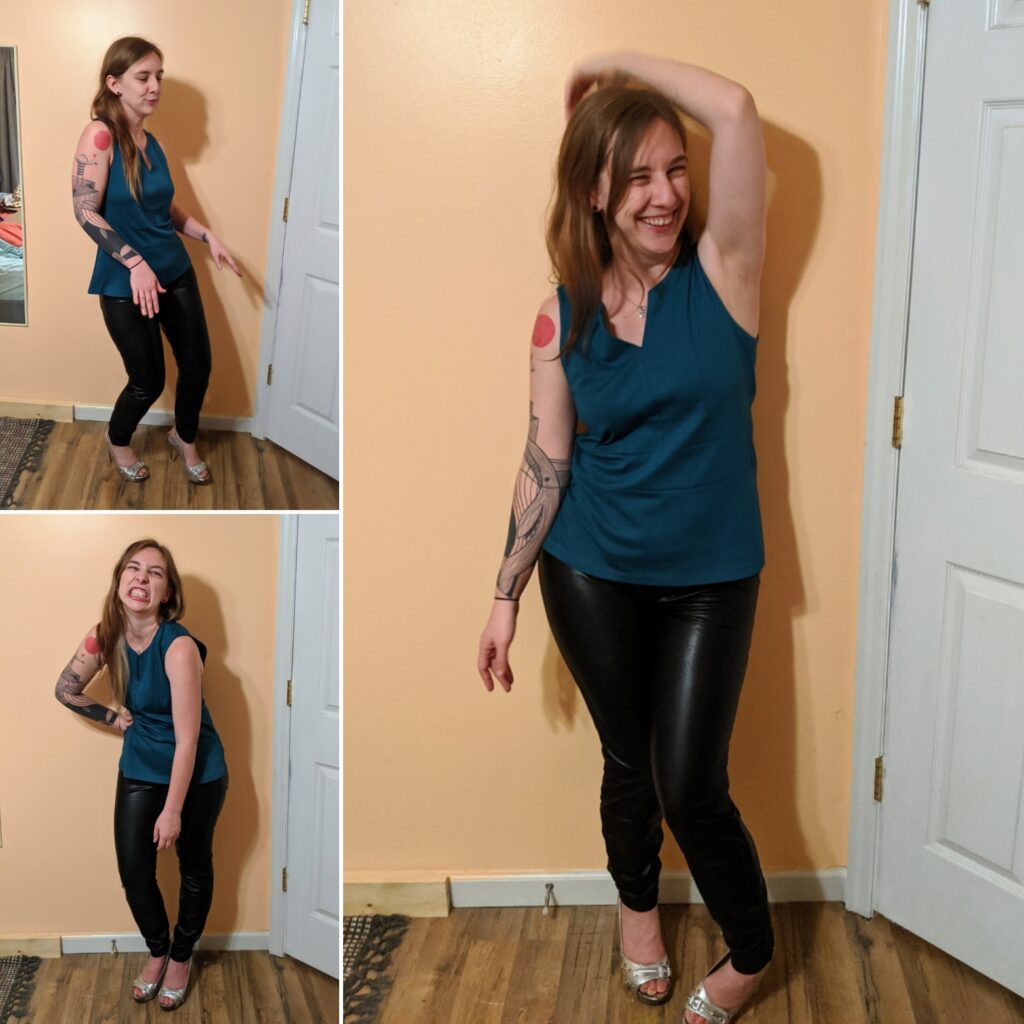 I have no idea what I was doing in any of these shots. Just know that I deleted a lot of photos to get us here.
Oh, and her outfit suggestions: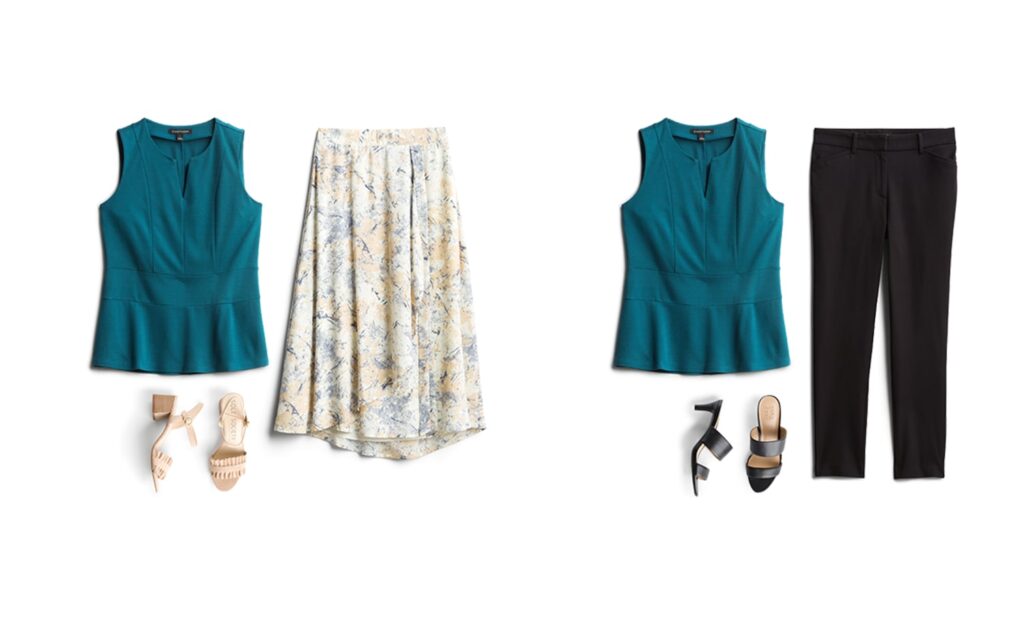 I can't quite imagine what it would look like with that skirt, but the skirt itself feels very….matronly to me. Same with the black shoes. But what do I know. I don't even own heels. MAYBE I'LL GET THREE PAIRS.
---
MARKET & SPRUCE: Hans Crochet Front Top
OAT NEW YORK: Lisa Printed High Rise Skinny Jean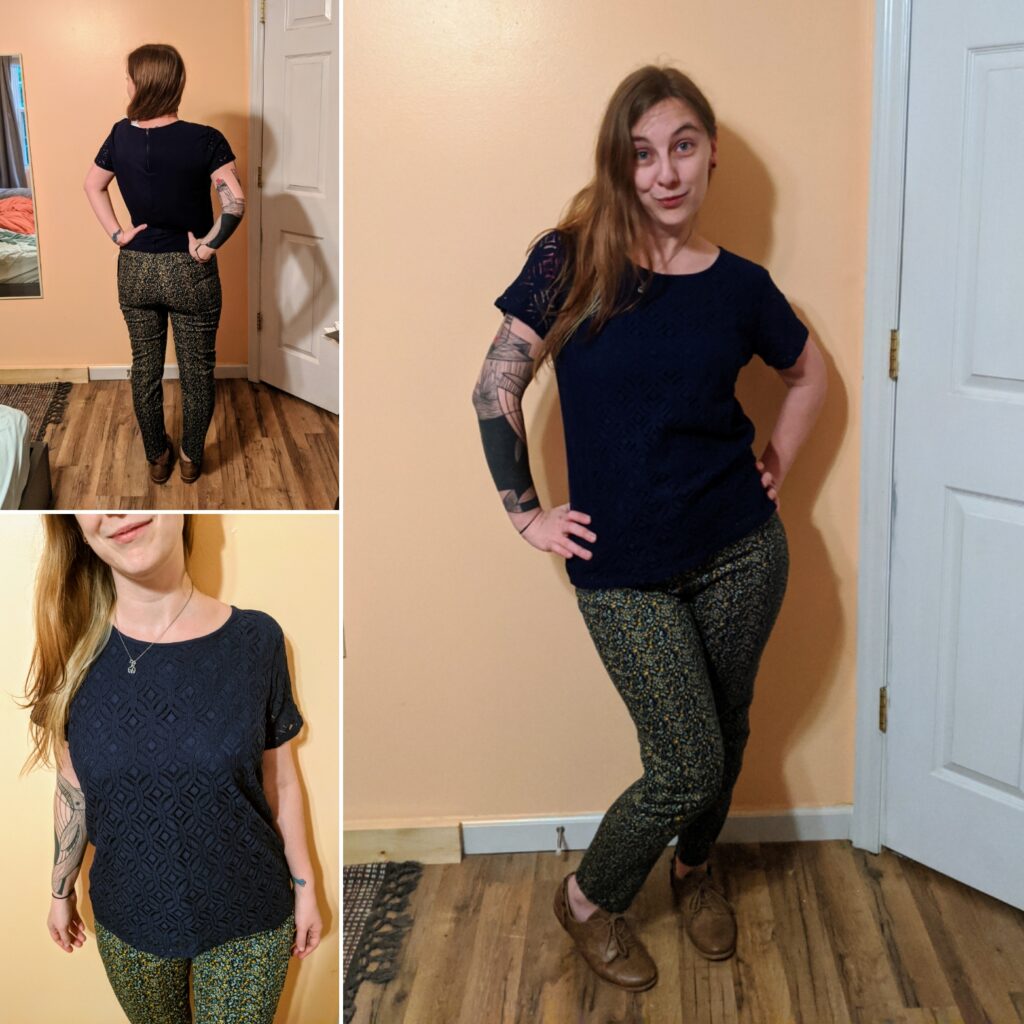 I super love the pants. I basically want to replace all my pants with patterned pants – all kind of patterns. Every color, every pattern. Just no solid pants ever again, please. Well, unless they're a super fun color… The crocheted top is also cute, and I think it pairs well with the pants. BUT THE PANTS, MAN. Love them.
In her note, she suggested pairing this outfit with some colorful shoes. Unfortunately, I don't really own any (so I guess we're up to four pairs now?), but I think these brown ones are pretty cute with it. Well, I do own one pair of bright shoes…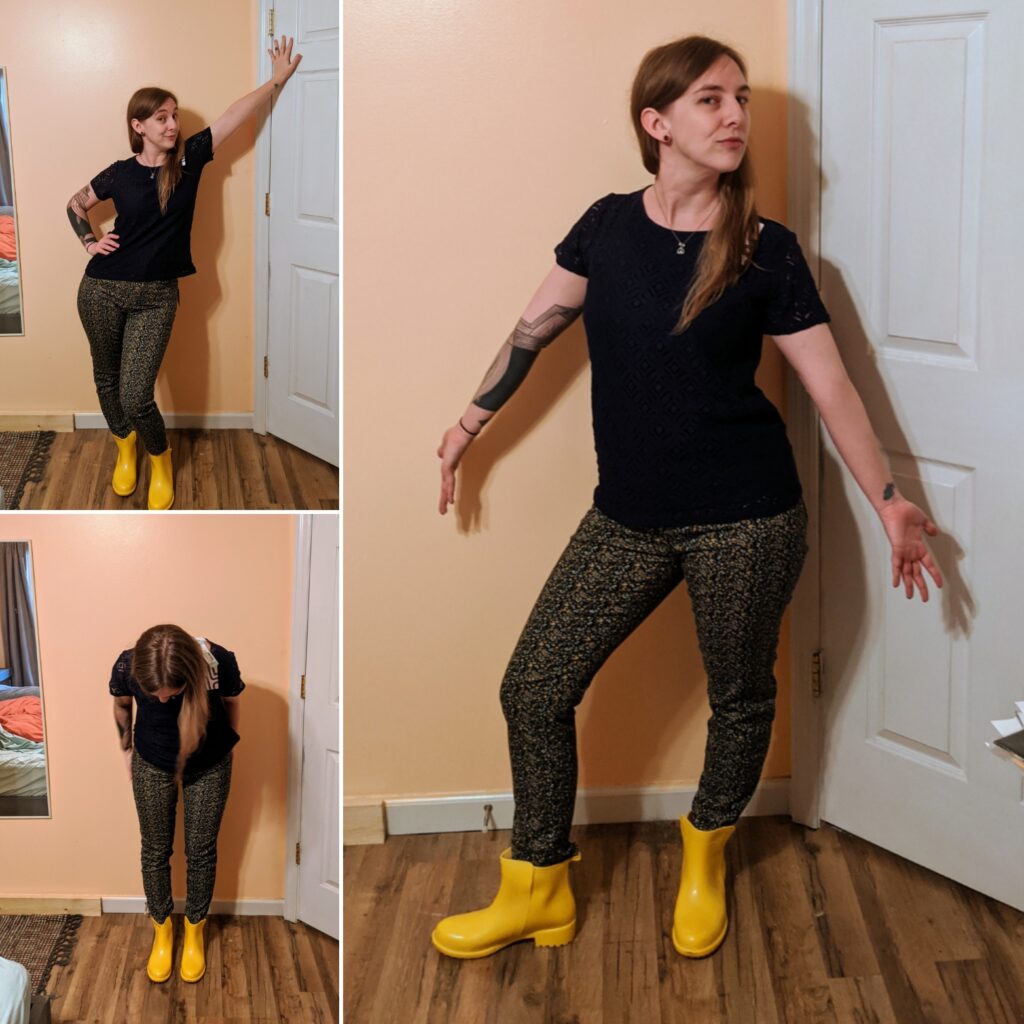 Wah-BLAM. Rockin' it, man. Rockin. It. (I don't think this is what she had in mind, though…) Yeah, I'm gonna need to buy like 4-6 pair of shoes, fo sho.
Outfit suggestions: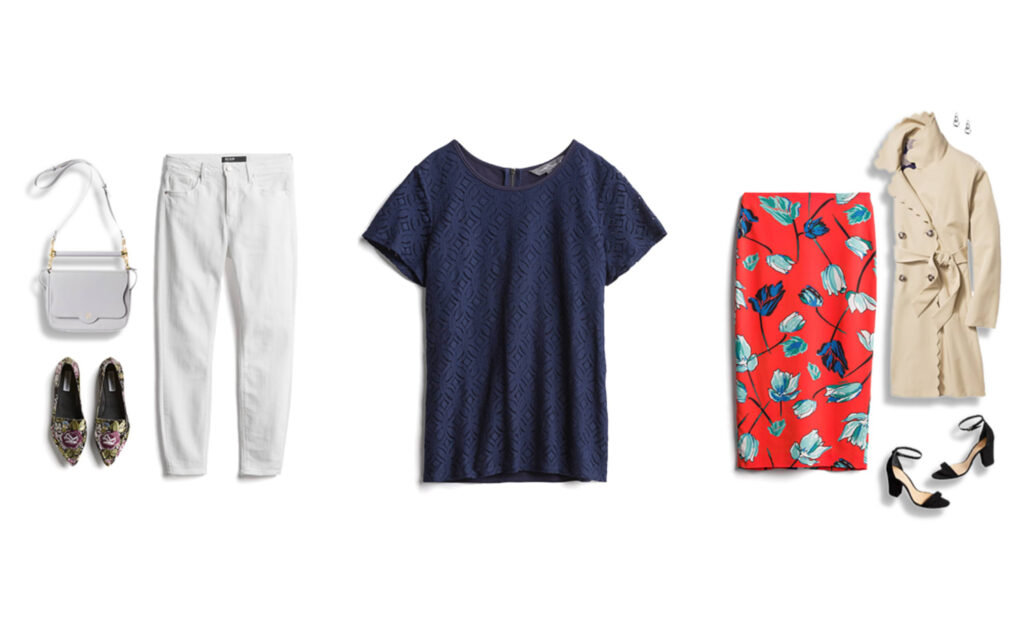 The only things I like in either outfit are those pointy floral shoes. They're FAB. But there's no way I'm buying white pants, and for some reason I hate that edging on the trench coat. Also – those heels have the ankle straps that I hate, and that skirt looks long and tight…but the top is still cute? lolol
---
PAPERMOON: Reece Mixed Material Top
OAT NEW YORK: Lisa Printed High Rise Skinny Jean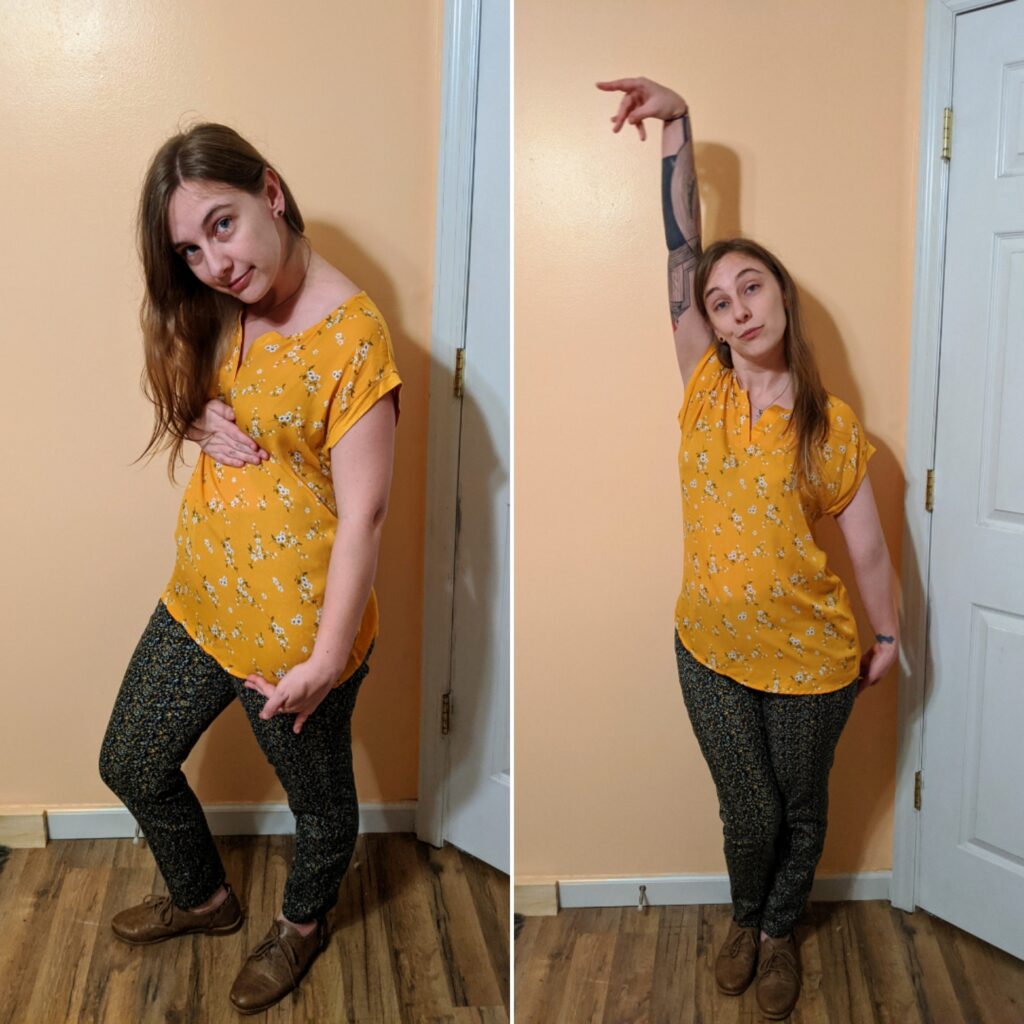 She was right. I love the yellow top. No clue why we took no pictures in it, though. I had like 15 iterations of these two, and one video that I put on my Facebook page. The only downside is that it's pretty thin, so you can definitely see the color change between my stomach and the pants. It would be less noticeable with lighter pants, or if I had a shirt under it. But it's cute. I love the sleeves, too.
Outfit suggestions for this top and the jeans: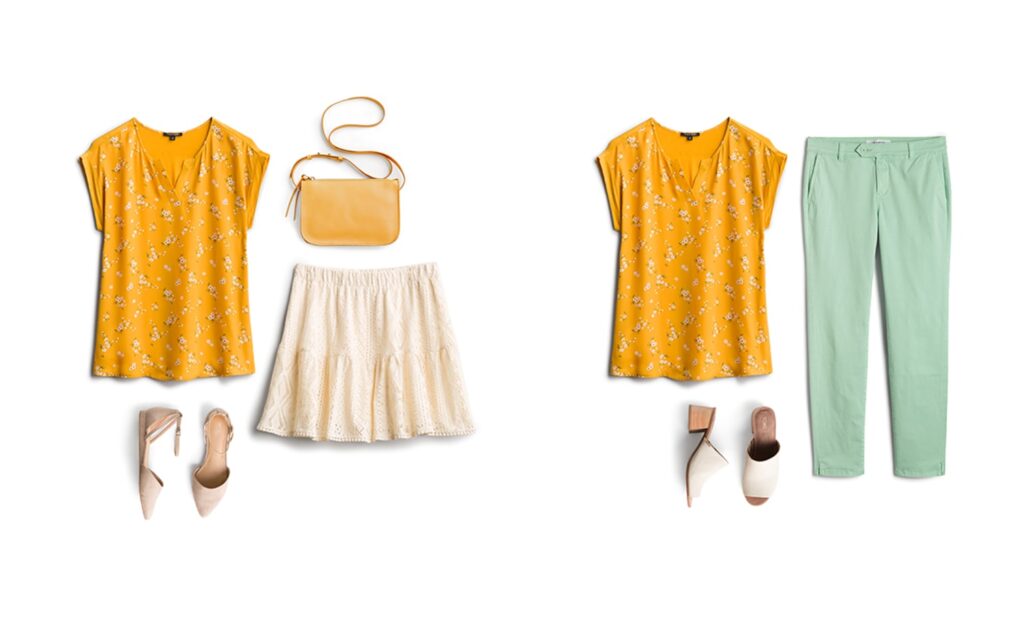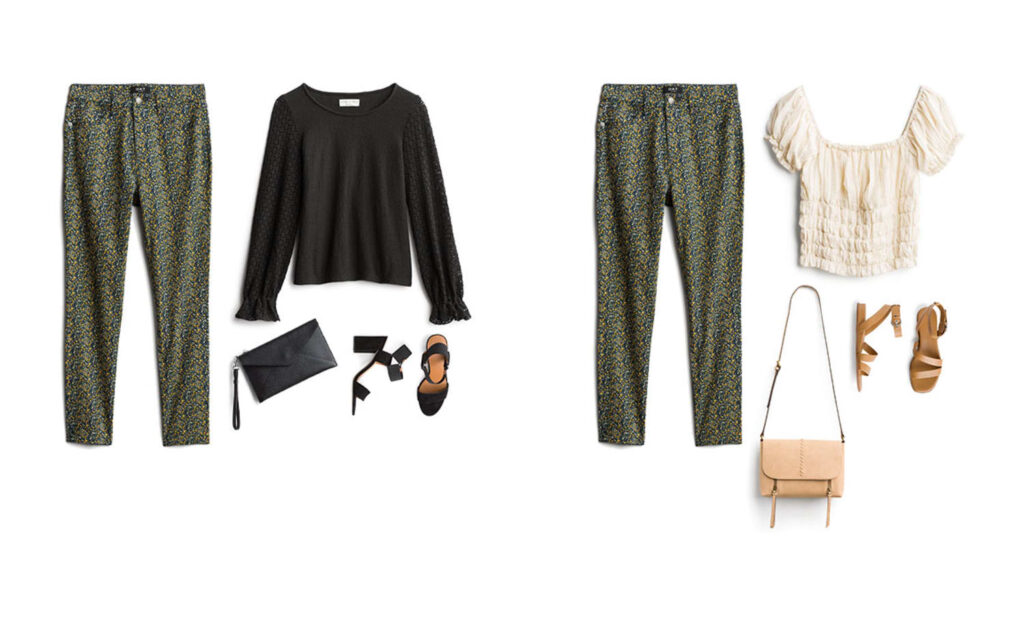 I like the off-white skirt (but would probably never risk owning one because, you know, white = stains. I also love those mint pants. But, yeah. Not really loving the second set of outfits. Especially those tops. Yeesh.
---
I was pretty disappointed when I opened this box, y'all. My actual literal only request was for wide-legged pants. It's the dream that won't die. I really thought if I was SUPER SPECIFIC and only made one request I would succeed. They're super trendy right now! I see them in my style swipes all the time. THEY EXIST AND ARE POPULAR. But no. Her note did appease me, though, mostly. And I really did end up liking everything in this box. But dang…why are wide-legged pants so hard?!
Also, and even more tragically, even with $125 in credit AND a 25% discount for keeping the entire box, it would still have cost nearly $100 to keep everything. I didn't even really look at prices until I was writing this post and getting ready to place my order, so you can imagine my sadness…I really expected to keep everything. Of course, if I tried to just return ONE thing, my order ended up costing more than if I kept it all. So I had to return the dress and the peplum top. *sob* I've just spent too much money in….in the past week, much less this year. Plus I've got another Trunk Club coming next month. Then I think Matthew has a Stitch Fix box in August. WE'RE OUT OF CONTROL.
Oh, if you wanna help a girl out: Stitch Fix Referral Link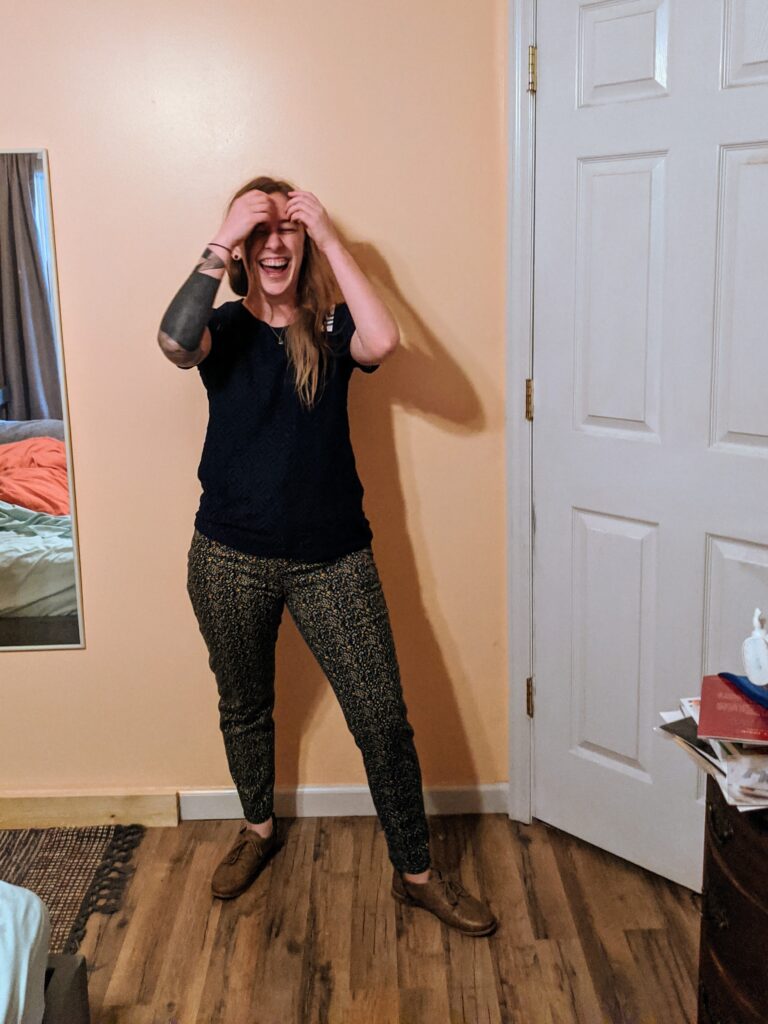 If you laugh enough, and spend enough money, then the pain is less painful.
Right?
Kidding.
I'm also seeing a therapist.