My Note
Casual clothing – shorts, t-shirts, tank tops, sandals. Wardrobe staples mixed with fun patterns to make an outfit interesting. Practical enough to chase a 4yo and a puppy around without crossing over into "Mom Fashion".
---
The Clothes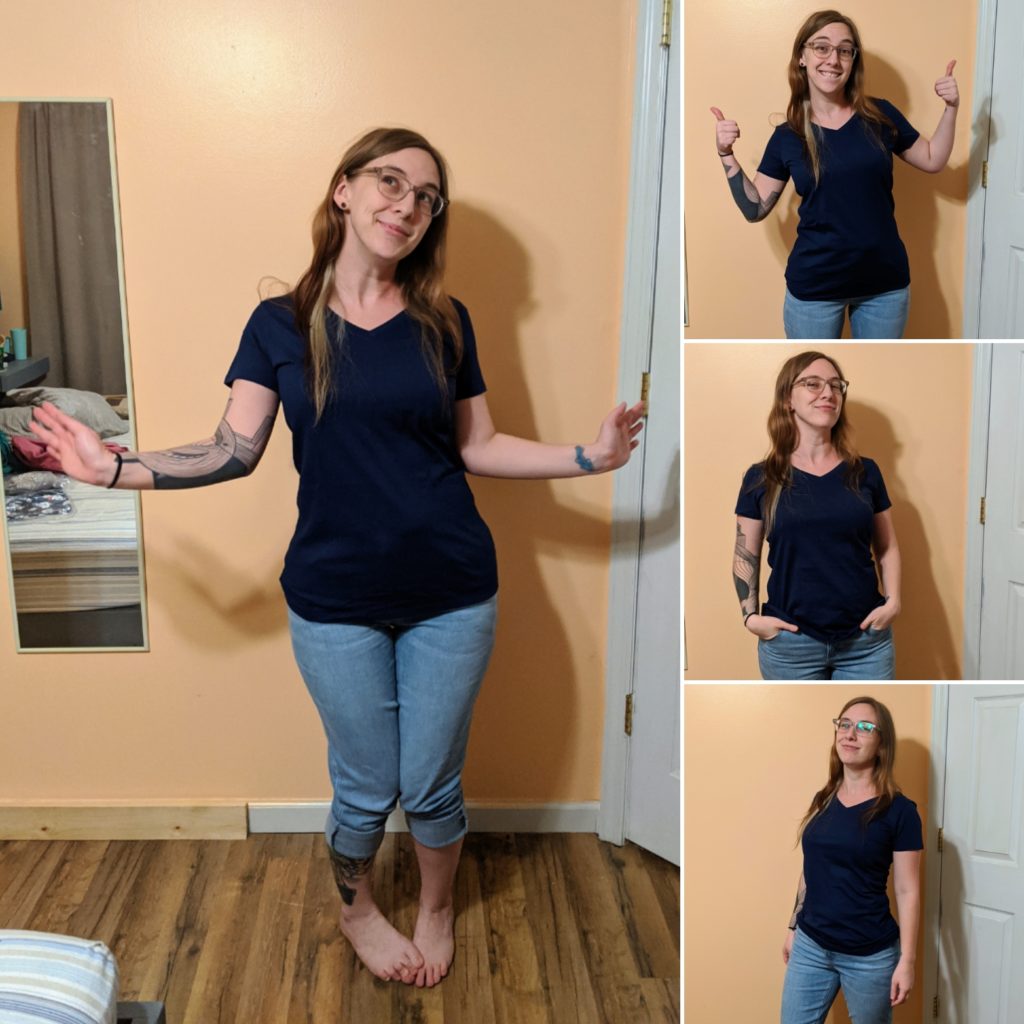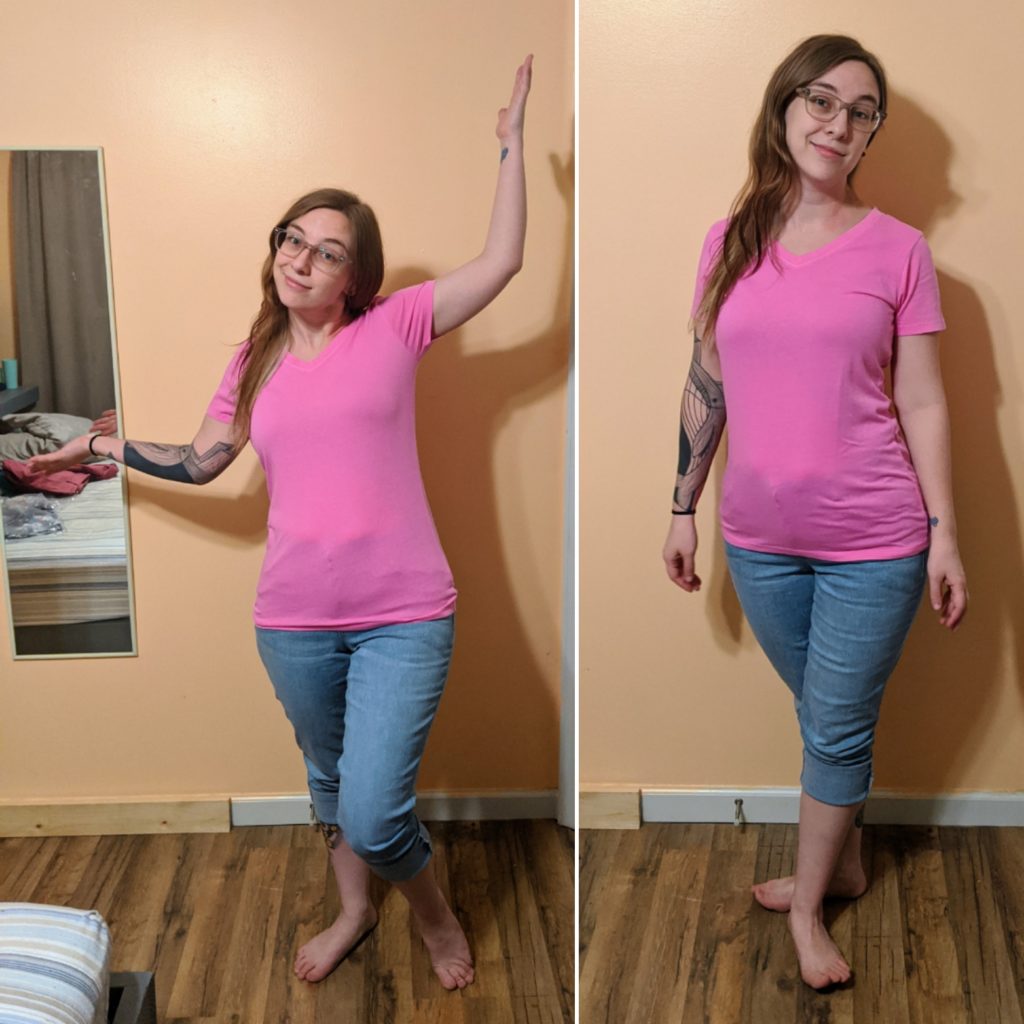 I tried something new with this box and ordered the same items in different colors/prints. Wild, I know. This was a basic t-shirt, and the navy blue was only like $7. The pink one was nearly twice that, which is still pretty cheap. Questionable reviews on Amazon, but for $7 I'll give it a shot. The pink was a bit too see-through for me. My jeans are pretty light-wash and you can still see them through the shirt. Also, I was told they weren't cuffed enough last month, but now I have over-cuffed. HOW IS ONE TO KNOW THE OPTIMAL CUFFING LENGTH, WORLD??
I actually chose these two colors in an attempt to find a top to wear with that damn skirt that I shouldn't have purchased. The pink was not the right shade at all, but I think the blue works really well! I also found an old yellow long-sleeve tee in my closet and thought I'd try it with the skirt as well…I didn't hate it, but I think darker colors work better with it. Now I just need shoes, and a sweater/jacket/cardigan/cover of some type. And jewelry. Damn skirt.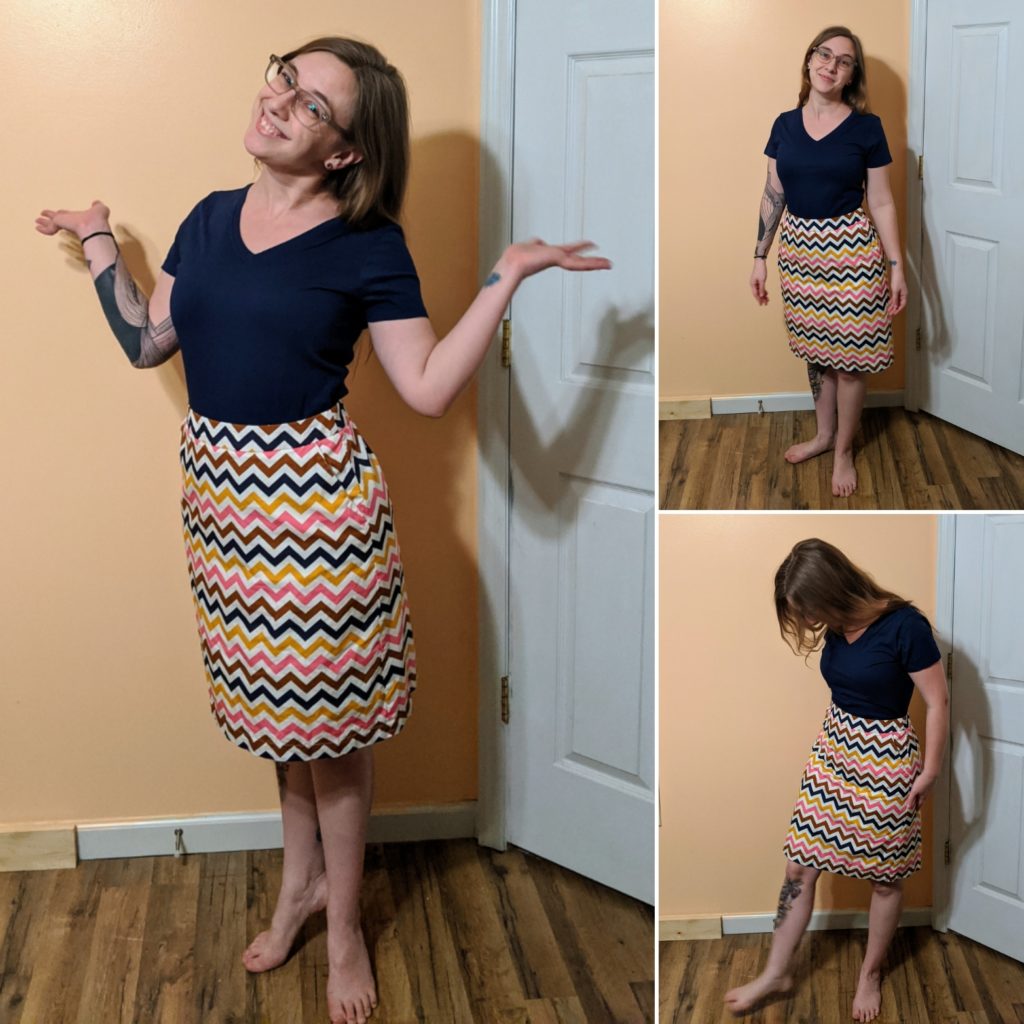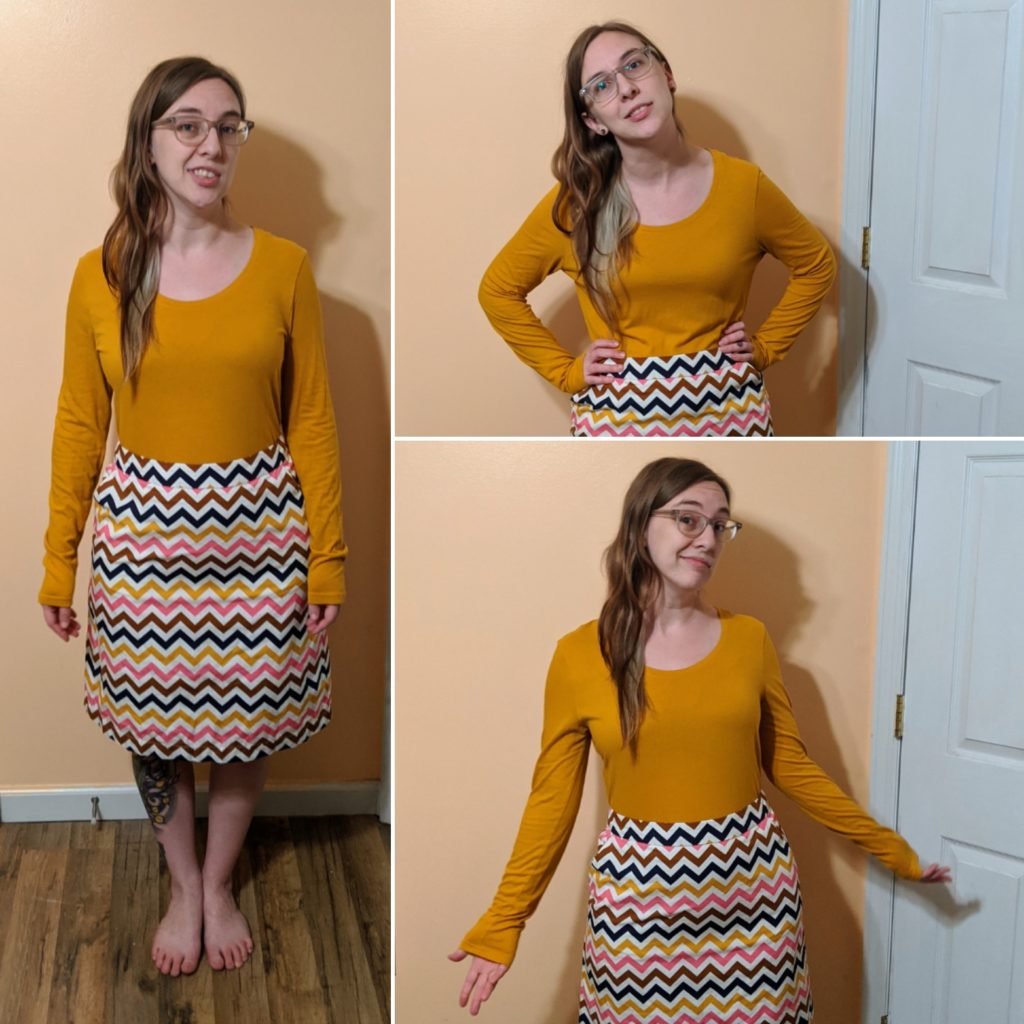 ---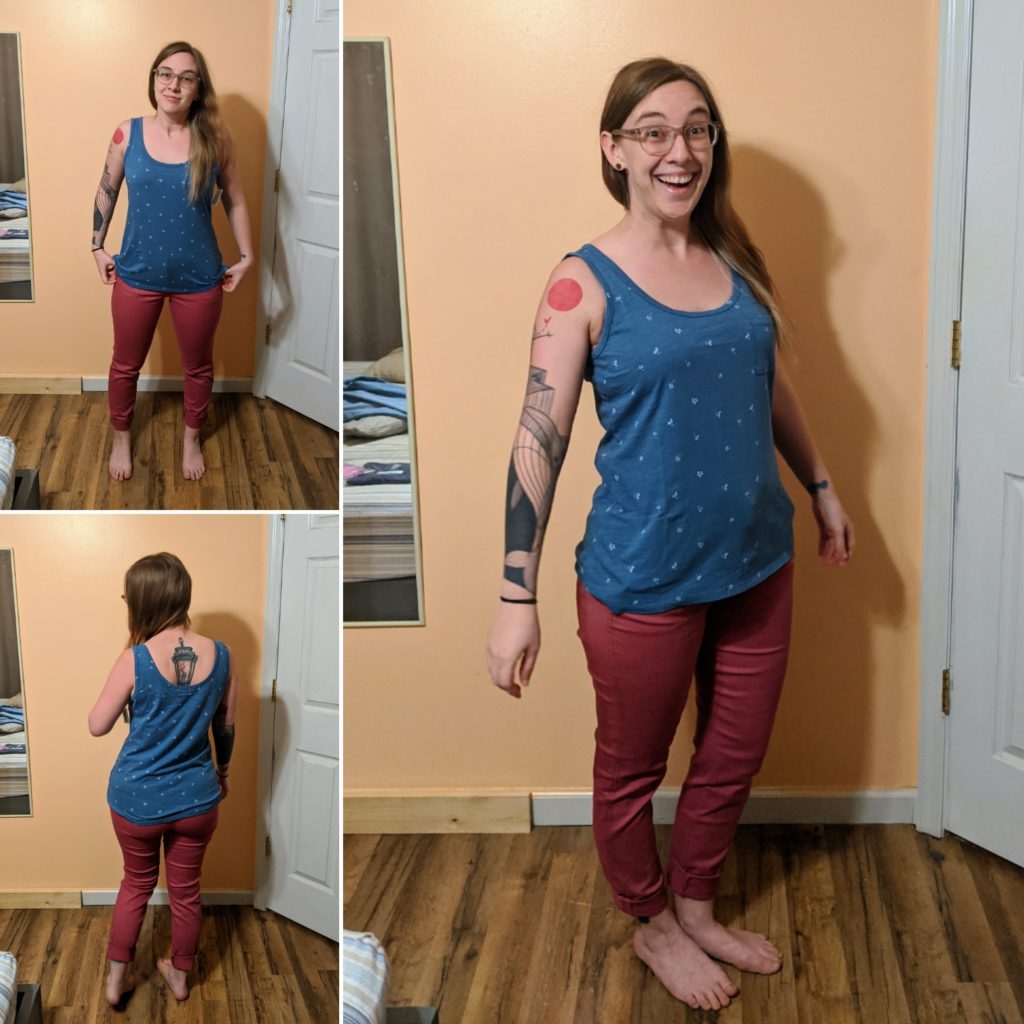 I was actually pretty excited to find another top to wear with my (hella expensive) Stitch Fix pants from…idk, February? Plus it was only $12.50 – doesn't get better than that.
---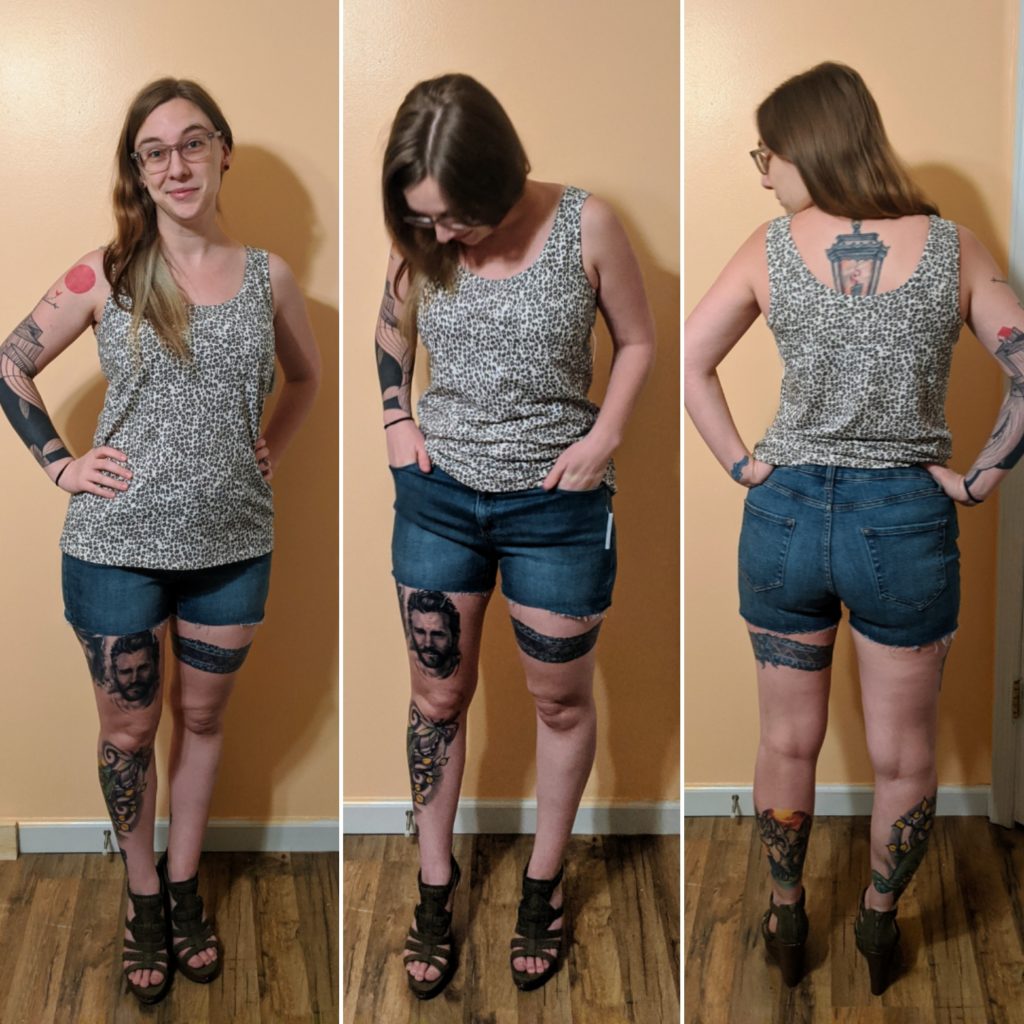 OH WAIT YES IT DOES. (Get better – it was a reference back to my last sentence waaaay up there above this photo. It worked better in my head.)
CAROLE BASKIN
MURDERED HER HUSBAND – SHE WACKED HIM
FED HIM TO TIGERS – THEY SNACKIN
CAROLE BASKIN
I almost didn't get the second tank-top…but how can you not? I'm also never actually going to wear those wedges with jean shorts. It just…felt right, you know? With that top? Anyway. Kept them both. I've already worn the shorts! Feels good to wear real clothes. Feels good to wear shorts that aren't so short your booty hang out the bottom. NOT THAT I WOULD DO THAT, MOM.
---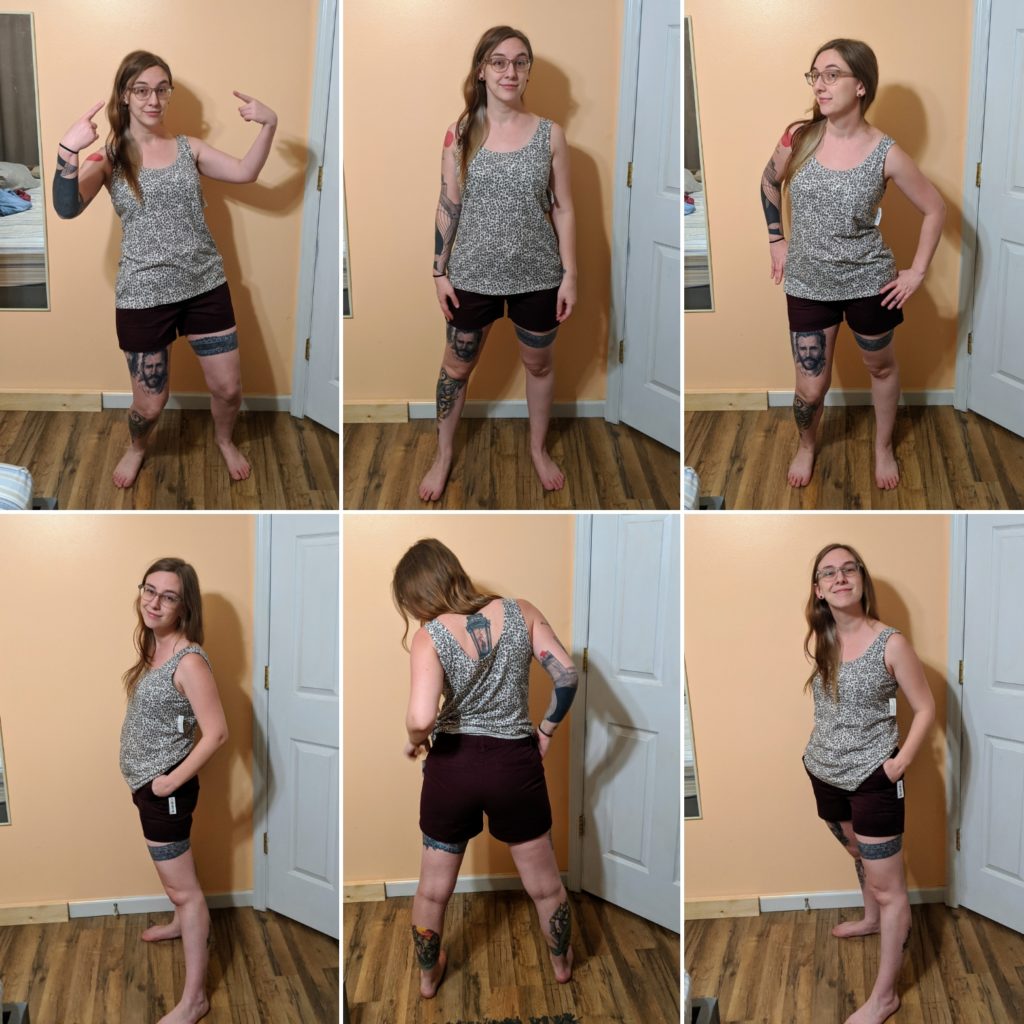 Yup, same tank top as before. But new shorts! Fun fact – I also ordered the navy floral print in these shorts, but somehow managed to order them in a Size 0. -_- Matthew said they looked like a hat. There is ZERO give in these shorts, by the way. I could do with maybe a half-inch more space to breathe. But they were $17 so whatever. I just won't wear them out to dinner. lol! The tank tops, on the other hand, were Med and if I were to order another one I might try a Small. They're just a smiiiidge too loose, imo.
---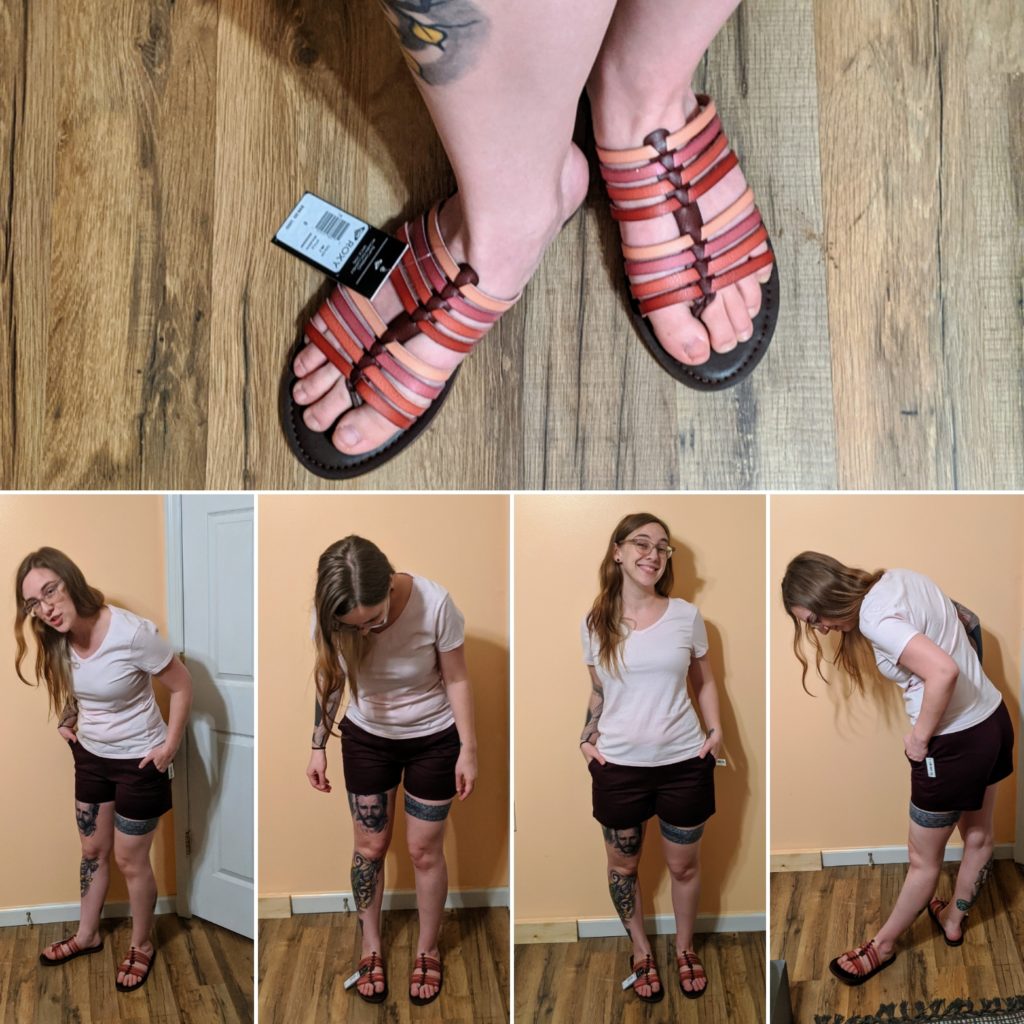 I allllllmost got these sandals. Almost. If they had been just a bit cheaper. WHICH THEY ARE NOW – WHAT THE HELL. I'VE GOT THE BOX OUT IN MY CAR, I CAN TAKE THEM BACK OUT, AMAZON. WHAT'S YOUR DEAL. No, I don't need them. They were a teensy bit too tight. I can do better. The shirt is actually a very pale pink top I bought after I got my first self-curated box. Man, that was a lifetime ago! I started out with a red one, then ordered white and pink. They're $6 t-shirts, so, like….good enough. lolol
---
Other than the shorts that I totally ordered the wrong size in, I could've kept everything in this box. I actually like several more things in the options, if I recall correctly. But I canceled my monthly subscription. 🙁 I'M SPENDING TOO MUCH MONEY ON CLOTHES, Y'ALL. My closet is bursting. And I'm wearing ratty old PJs for 3-4 days at a time. Plus, you know, I've got a Stitch Fix coming in this month, and a Trunk Club in July…
Oohhh…and I think Matthew is getting a Stitch Fix in August?? Or maybe September…