I haven't blogged about anything other than clothes in awhile. Oh, and the tragic ending to my marriage. Sorry about all that. Now that the world's gone to shit with the 'rona I'm having a hard time finding things to write about. (un)fortuantely, I had already signed up for so many clothing boxes…so they're still rolling in. I've got two for this post, and two more after that, and I just got an alert from Amazon that my April box would be curated soon, what did I want?? I said that I wanted comfortable quarantine clothes that would be cute enough to wear out in public if any of us ever get to do that again…
Stitch Fix Spring Collection
Don't forget my Stitch Fix referral link if you ever want to try them out!
Lila Ryan – Zuri Skinny Pant
Verse – Jory Split Neck Top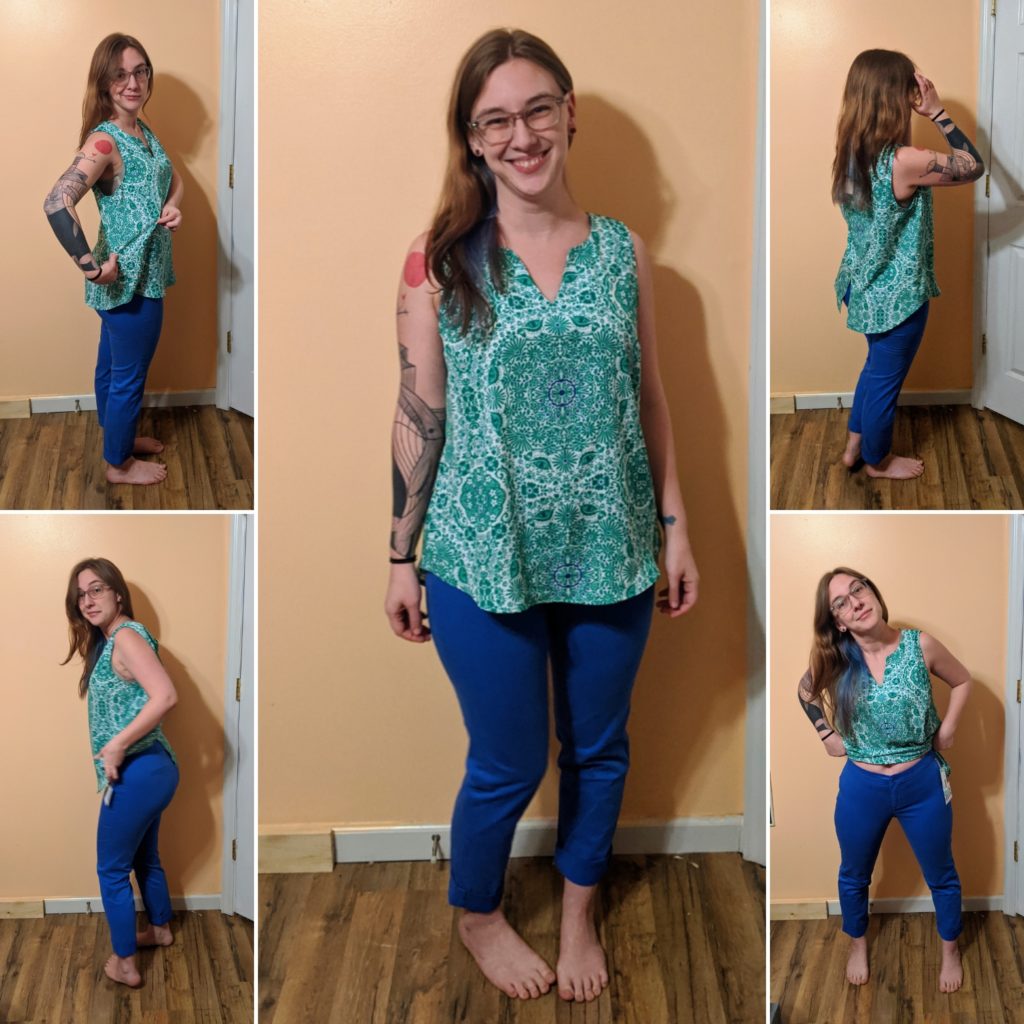 I actually really liked everything in my Spring box. But Stitch Fix clothes are always kind of pricey for me, so I have to nit-pick to find reasons to not over-spend. They sent two tank tops that I really liked, but both of them showed my bra through the arm hole. I could resolve it by wearing another tank underneath it, or a different bra maybe… I'm not sure if going down a size would've helped or not. But for the price, I didn't want to deal with any of that. I also LOVED the color of these pants, but they didn't quite fit correctly around my waist, and they had no belt loops.
---
41 Hawthorn – Breyson Pleated Detail Blouse
Market & Spruce – Rosabel Skinny Cuffed Pant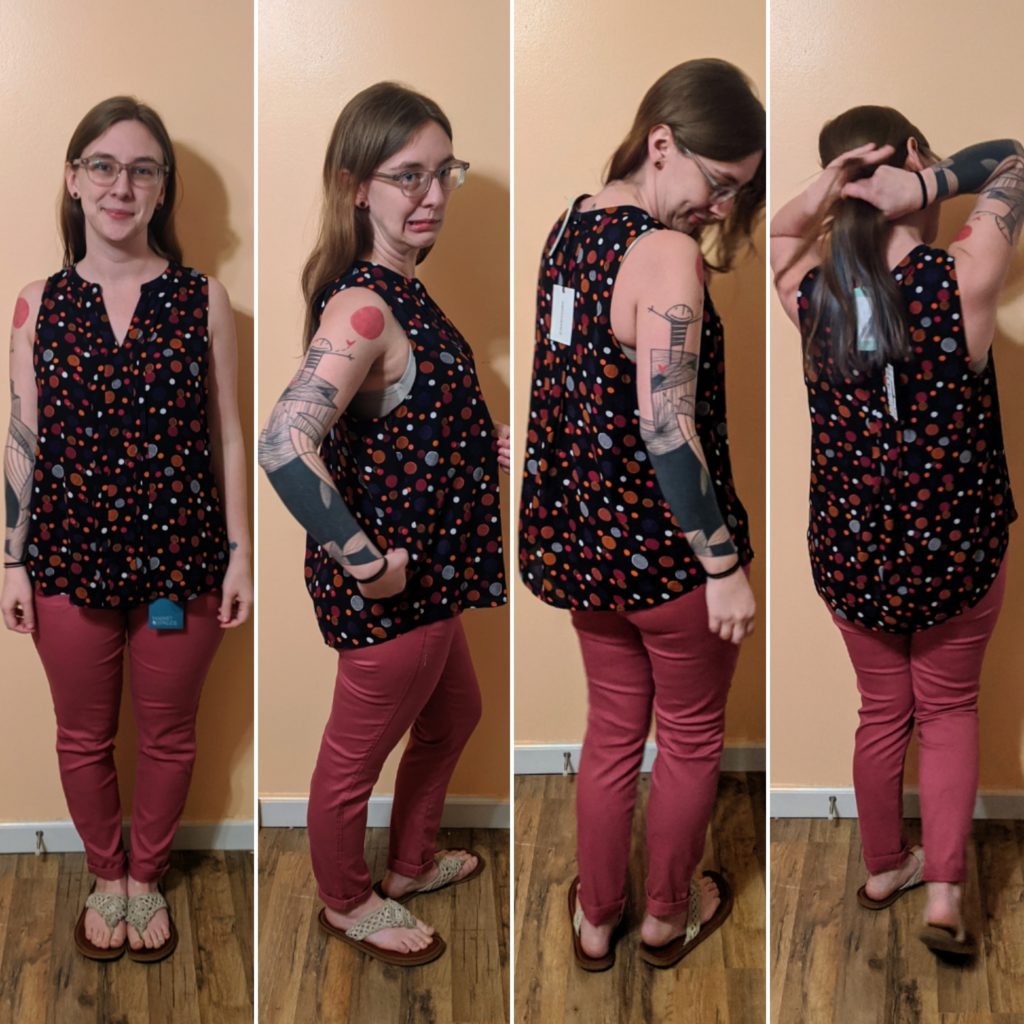 This was the other tank that showed my bra. Again – really liked it, but for the price….ugh. These pants fit me a lot better than the blue ones, so I convinced myself that I could keep them, even though they were pretty expensive. I absolutely love them.
---
Daniel Rainn – Koda Split Neck Blouse
Market & Spruce – Rosabel Skinny Cuffed Pant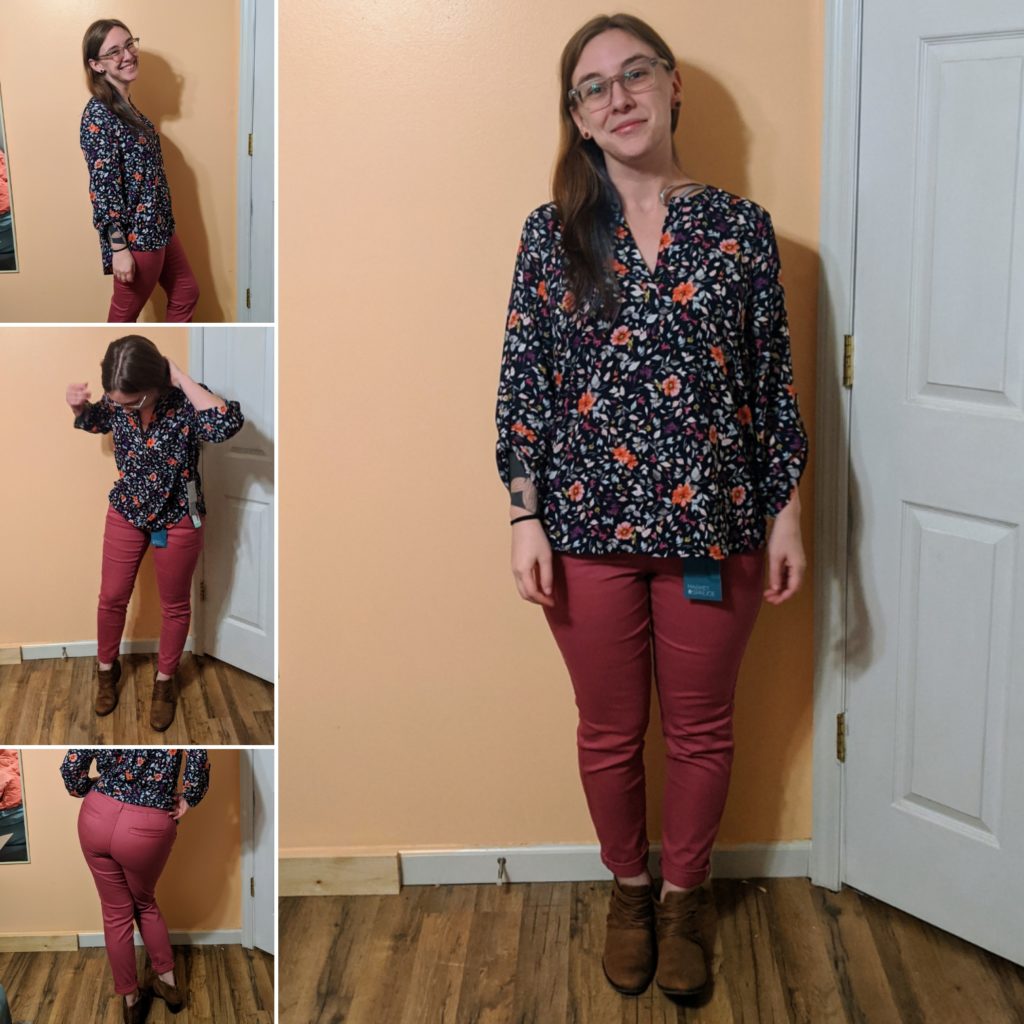 This is the outfit I decided to keep. I love the print on the top, and even though it's long-sleeve, it's got buttons to pull them up off my wrists and the fabric is very light and loose. Love the pink pants. I think I'll be able to wear them a lot once this quarantine is lifted and we go out in public again. That is…if all of this still fits. lolololol
---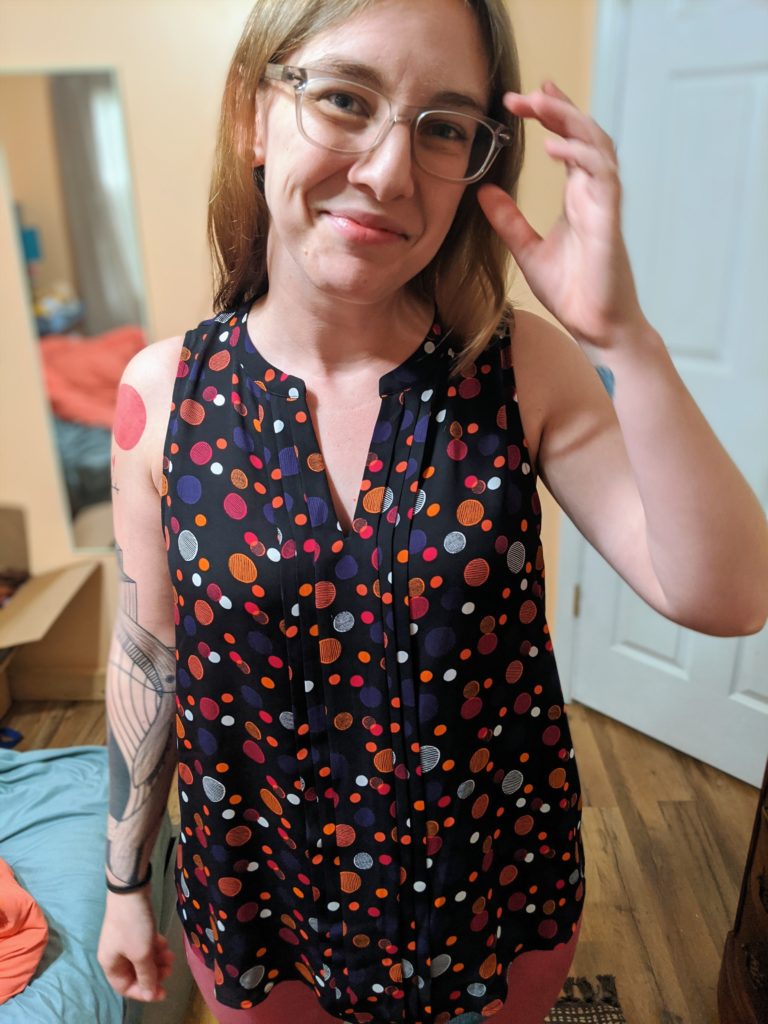 Matthew enjoys taking a million pictures of me that I have to cull for being blurry or ridiculous or just…terrible terrible. But I thought this one was cute. You're welcome!
---
Amazon Personal Shopper, 02/2020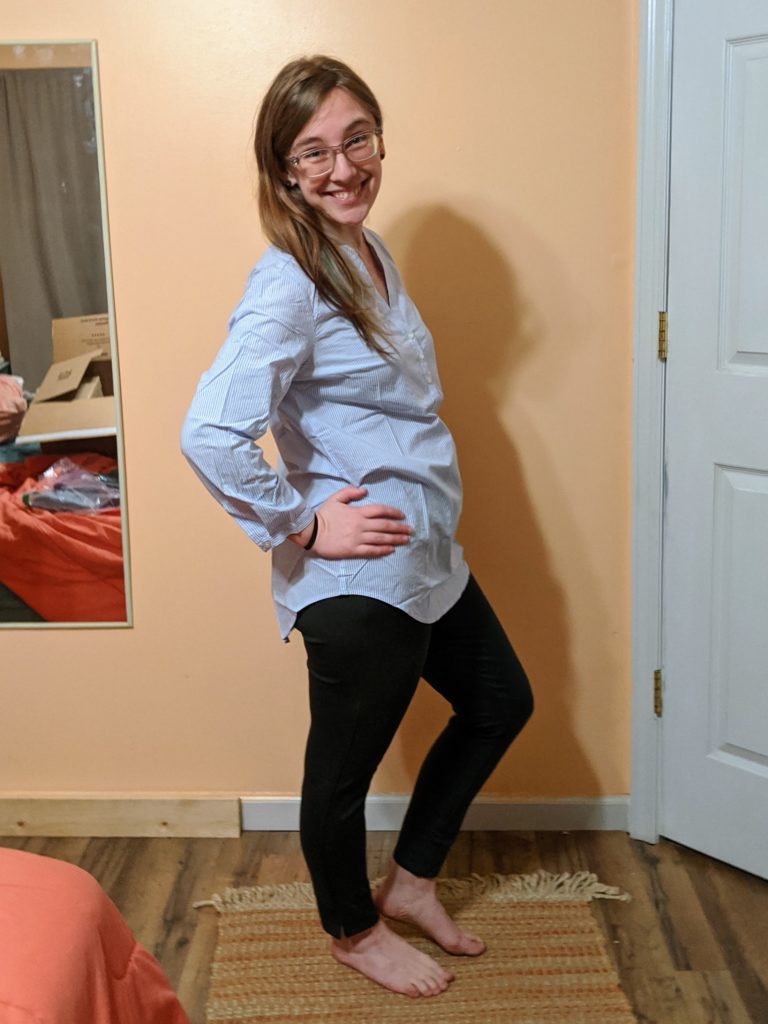 This shirt is obviously going to be horribly wrinkled any time I wear it, but it was only $20 and super comfy. I couldn't tell if the fit was a bit off or if it was just the creases from the packaging, so I'm waiting to see how it looks when I wash/wear it before determining if I want to buy another (they have a cactus print that I'm dying to order). God knows when that's gonna be, though… I honestly don't even remember the leggings, or why I returned them, but I did. I got this box of clothes right before the world fell apart, so I haven't worn any of them yet and haven't even looked at them in over a month.
---
This was just a nice, basic long-sleeve tee that only cost $13 when I bought it. It's nothing to write home about, but it was good enough for the price. I'm wearing the jeans I got in my first Stitch Fix with it. I seriously love those jeans.
---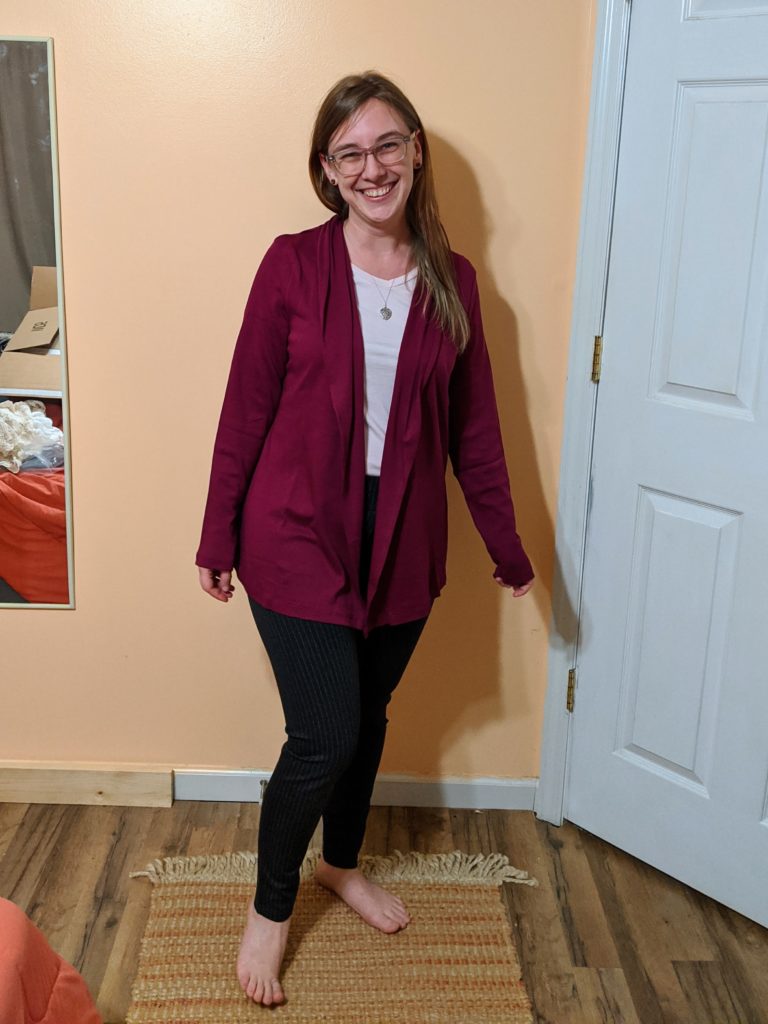 You seriously cannot own too many cardigans, imo. And this one was only $30. I love the color, too, and might get around to ordering more at some point. You can't see the pinstripe very well in this picture, but trust me – it's there. I think I asked for leggings that I could wear to work and Pilates, and the stylist didn't quite understand what that meant. I got leggings, but not any that I can wear to Pilates…maybe I should've left off the work part. Oh! That's why I returned the olive ones! They had a zipper on the side. I was like…I def cannot do Pilates in leggings that zip.
---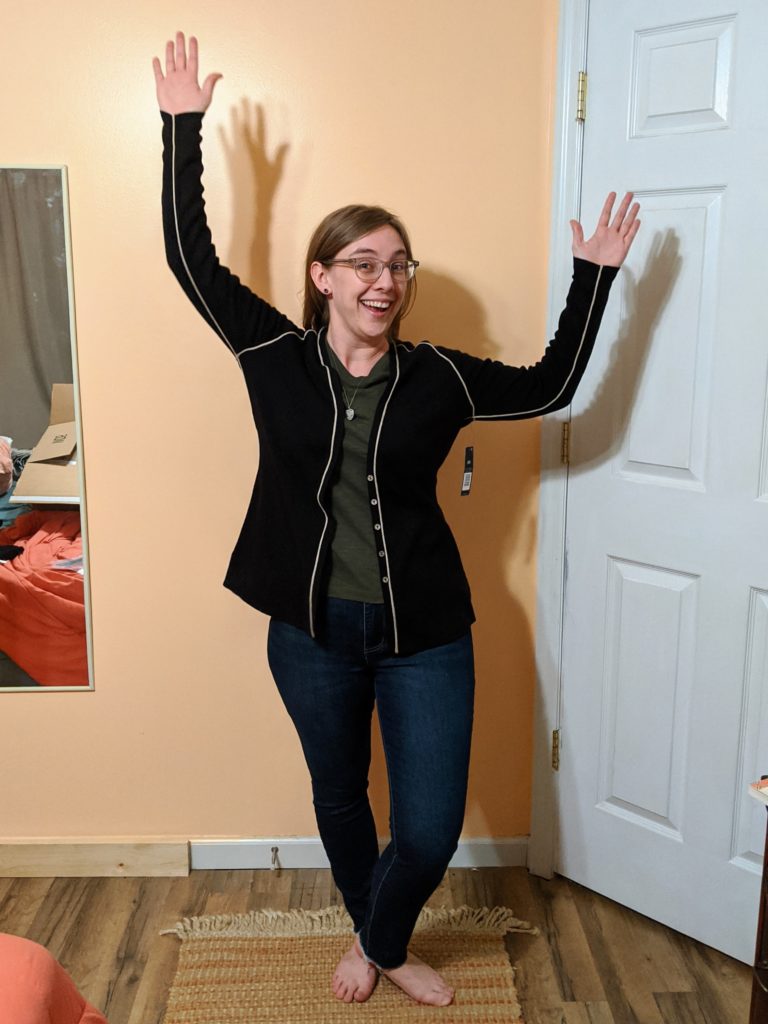 For some reason, the price on this cardigan is all over the place. I paid $32 for mine and it's a delight. I even got to wear it once before we went into quarantine! I don't think I'd pay $100+ for it, though. No – I know I wouldn't. I really enjoyed the stripes going up the arms, though. That might be my favorite part.
---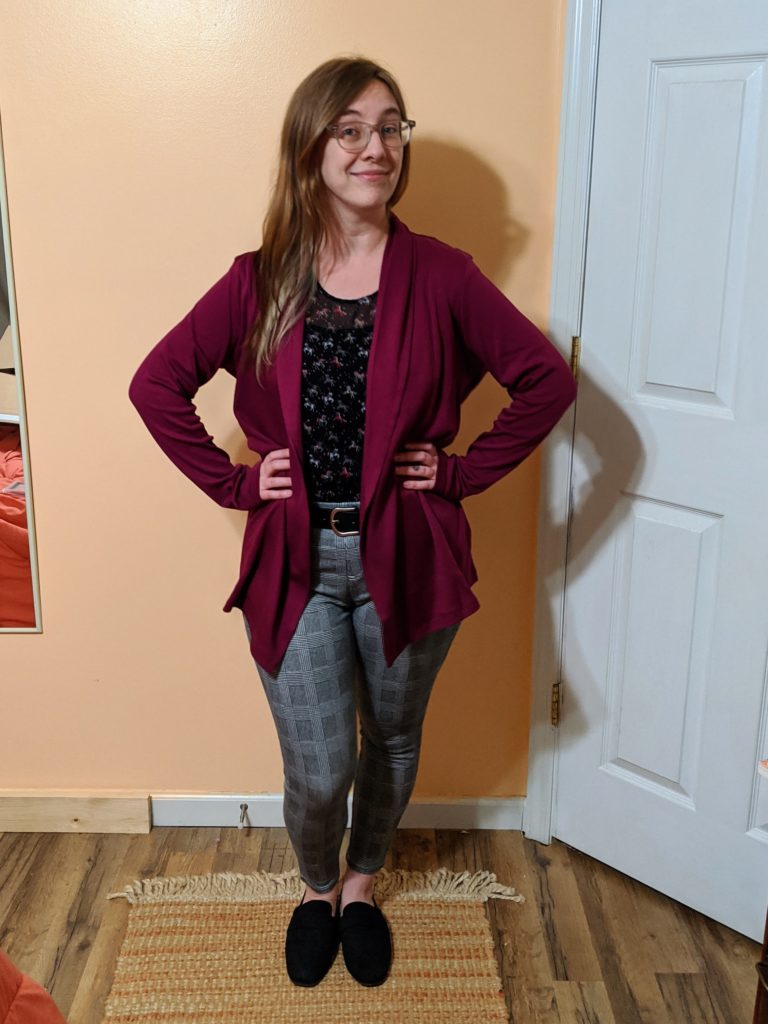 They don't photograph well because they're black, but I love these shoes so much. I can't explain to you how much I love them. Everyone thinks I'm nuts, but man…they spark joy. I got these pants in my first self-curated Amazon box and didn't wear them until I got the shoes and cardi to make an outfit. I felt baller the day I wore this, too. I don't have the drive to try this hard every day, or even most days, but it's nice to do it occasionally. lol! And yes, this is me trying.
---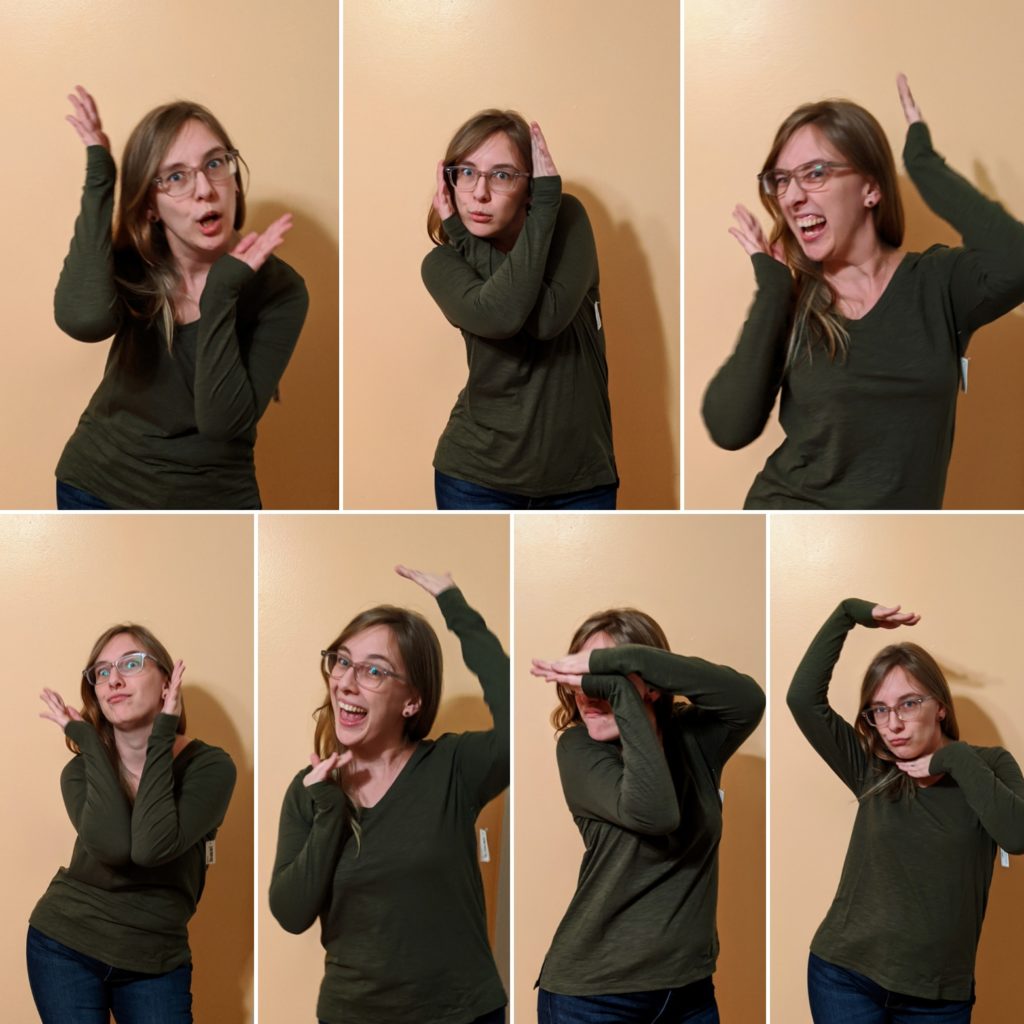 Seriously…I have to go through SO MANY PICTURES after I try on one of my boxes. Matthew is adorable and I love him. And I love that he puts up with my shenanigans.