I was actually going to make a different kind of post, but if I do this now I'll be all caught up on clothes posts AND the box I got this week is just so hilarious to me that I desperately want to share the pictures. I'll make a post about a home project or how I feel like I'm slowly going crazy as the world crumbles around me at some point after this one.
Amazon Personal Shopper, 03/2020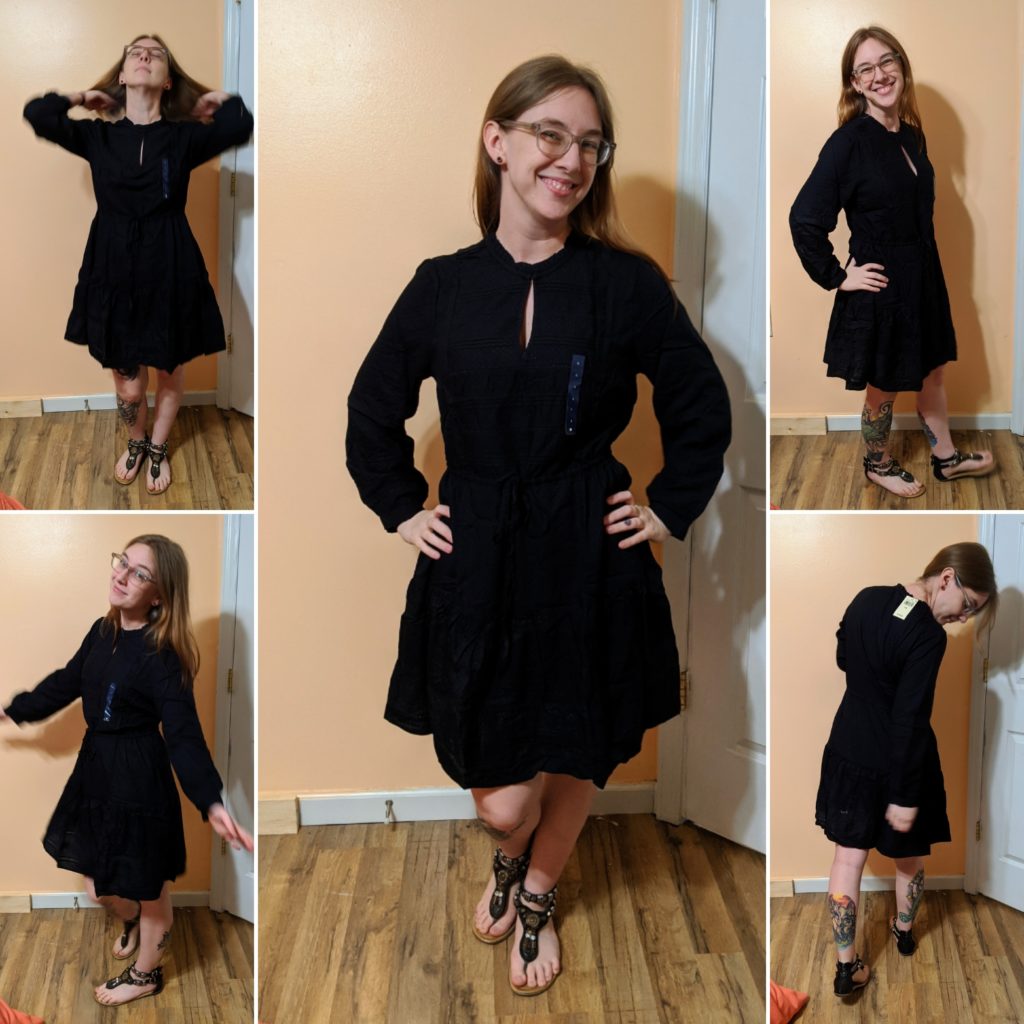 First of all, this dress was not $100+ when I was looking at it. I'd never have even tried it. lol! I can't remember how much it was, because I ended up returning it. My sizes are all wonky on Amazon and a lot of the clothes have been too big. I liked it well enough….hard to tell how it would have looked if it had fit. But if it had fit better, I think I would have kept it. Maybe.
---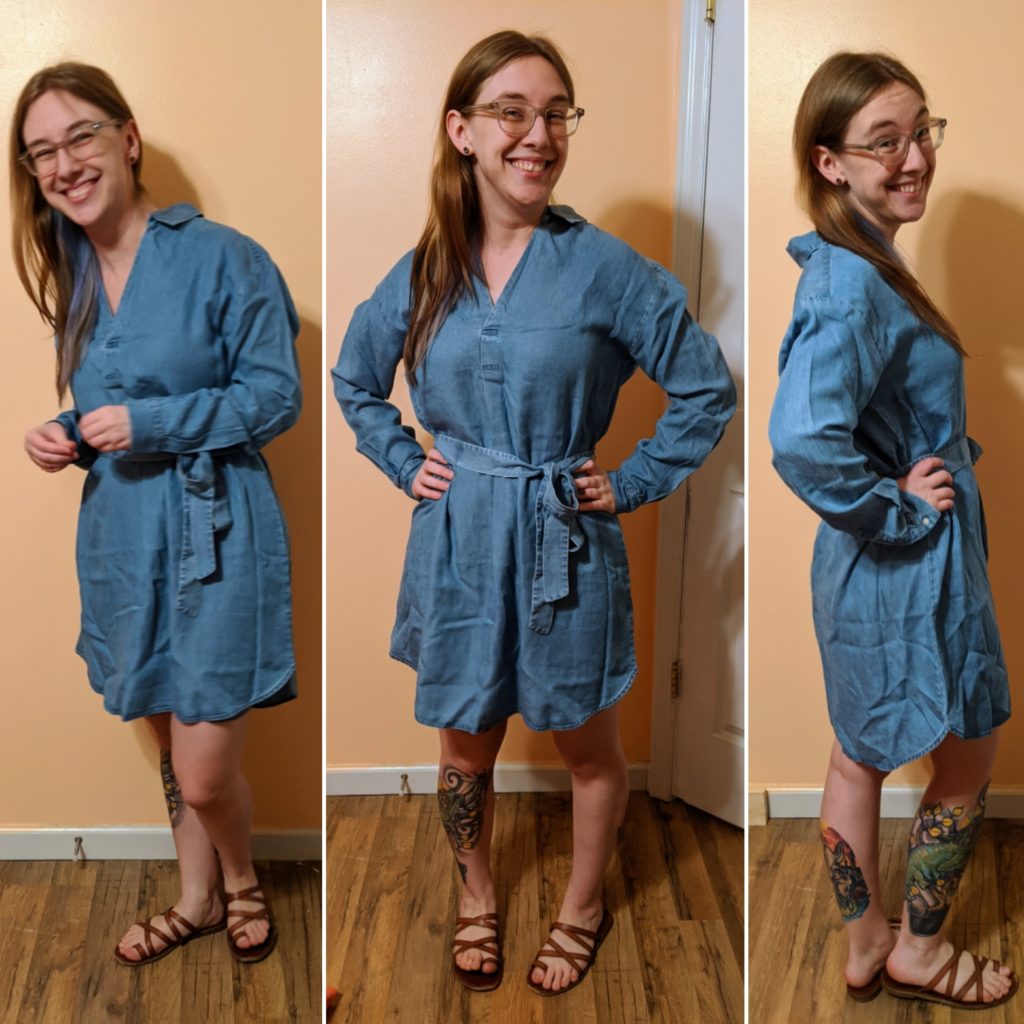 This one was also too large. I feel like, at the time, we liked one of the two dresses more than the other, but for the life of me I can't remember which one or why. Maybe the black one? I think I read reviews (and you can see in the picture) that this one wrinkles very easily. Either way, both of them were too big and they both went back. I didn't like either enough to fool with trying to order a smaller size.
---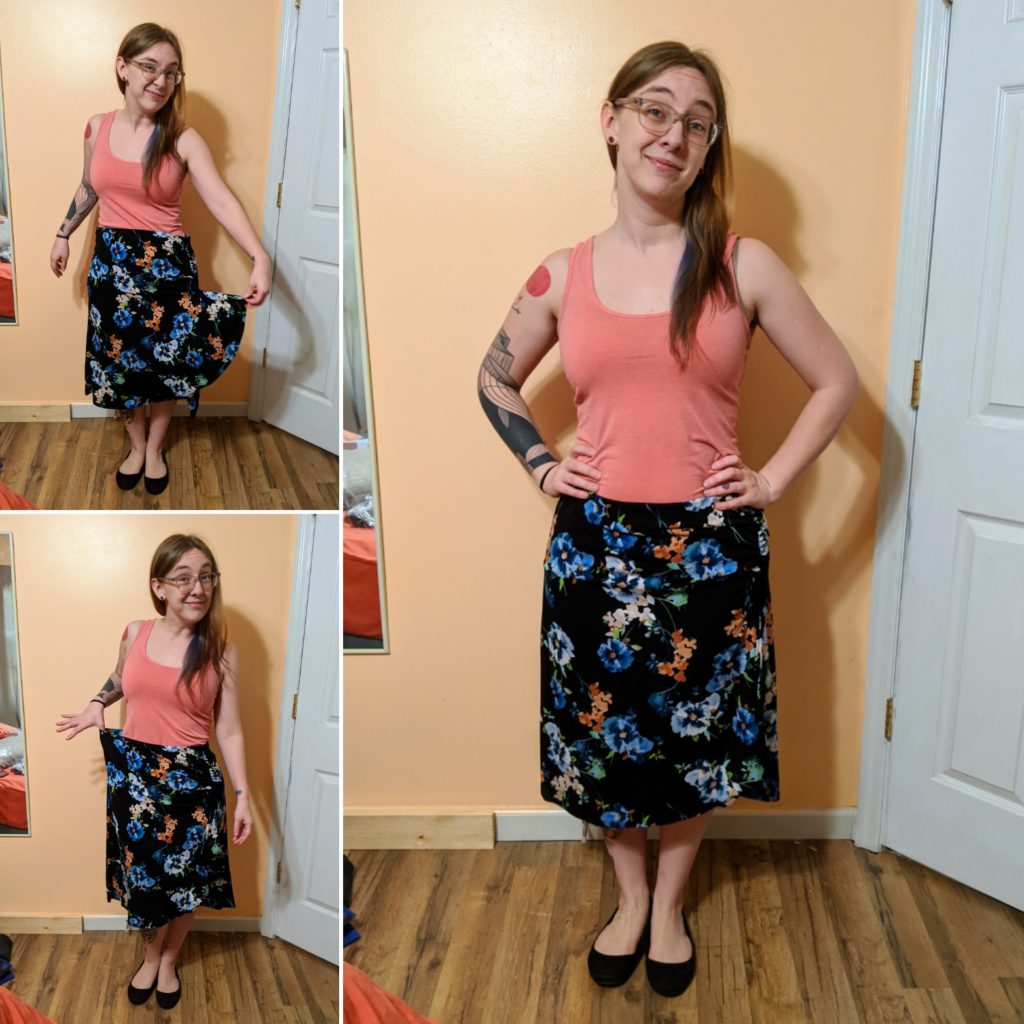 This was LAUGHABLY too large. And it went so far past my knees that, combined with the print, it looked frumpy. Also, it was hard to photograph, but the way it was "draped" translated to this weird flap of fabric that kind of looked like a fish fin or something….it was terrible, terrible. Pass.
---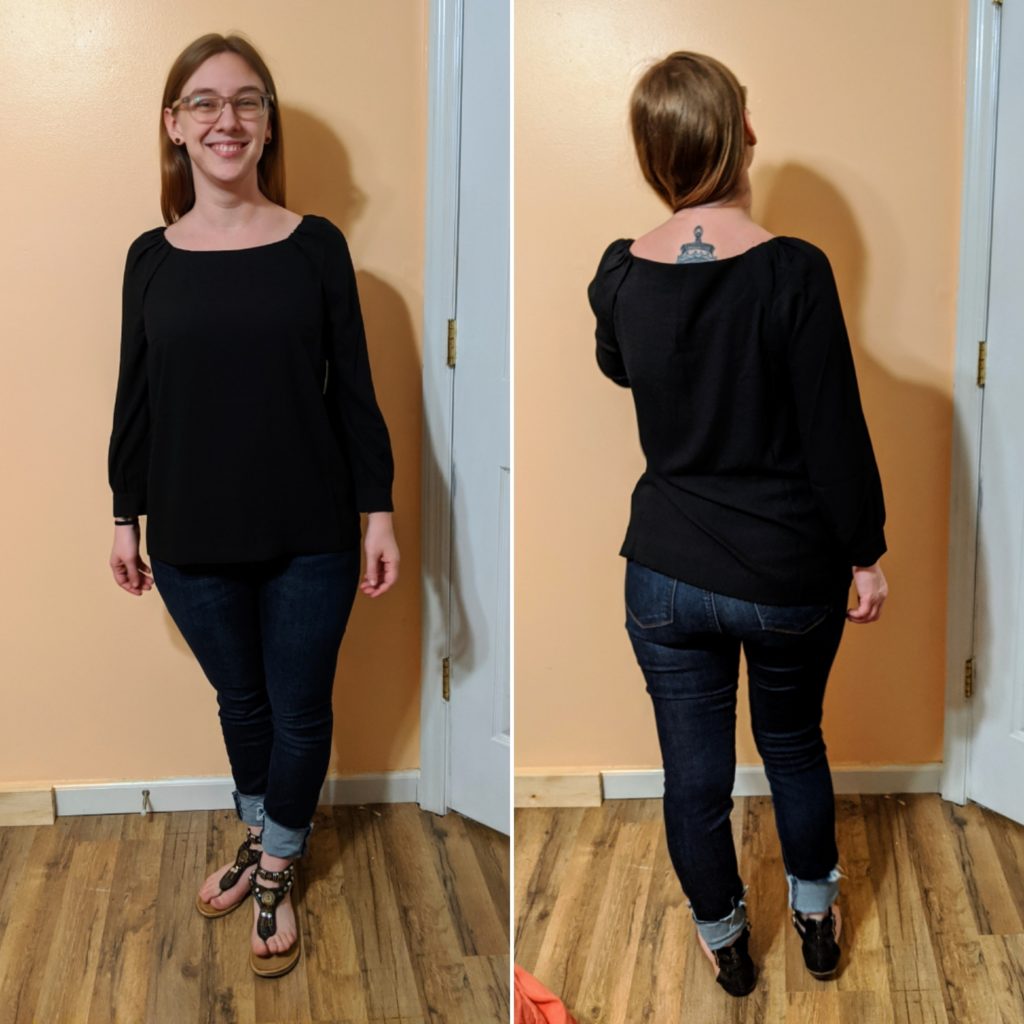 It's basically impossible to see anything but a black blob in the pictures, but this was a nice, uninteresting, black top. It's a thin material, pretty light and airy. So good for spring/summer, even with the longer sleeves. Especially since I basically stay indoors year-round… Nothing exciting, but it was worth purchasing to have it as a wardrobe staple. (Yes, those are my Stitch Fix jeans. I told you – I love them.)
---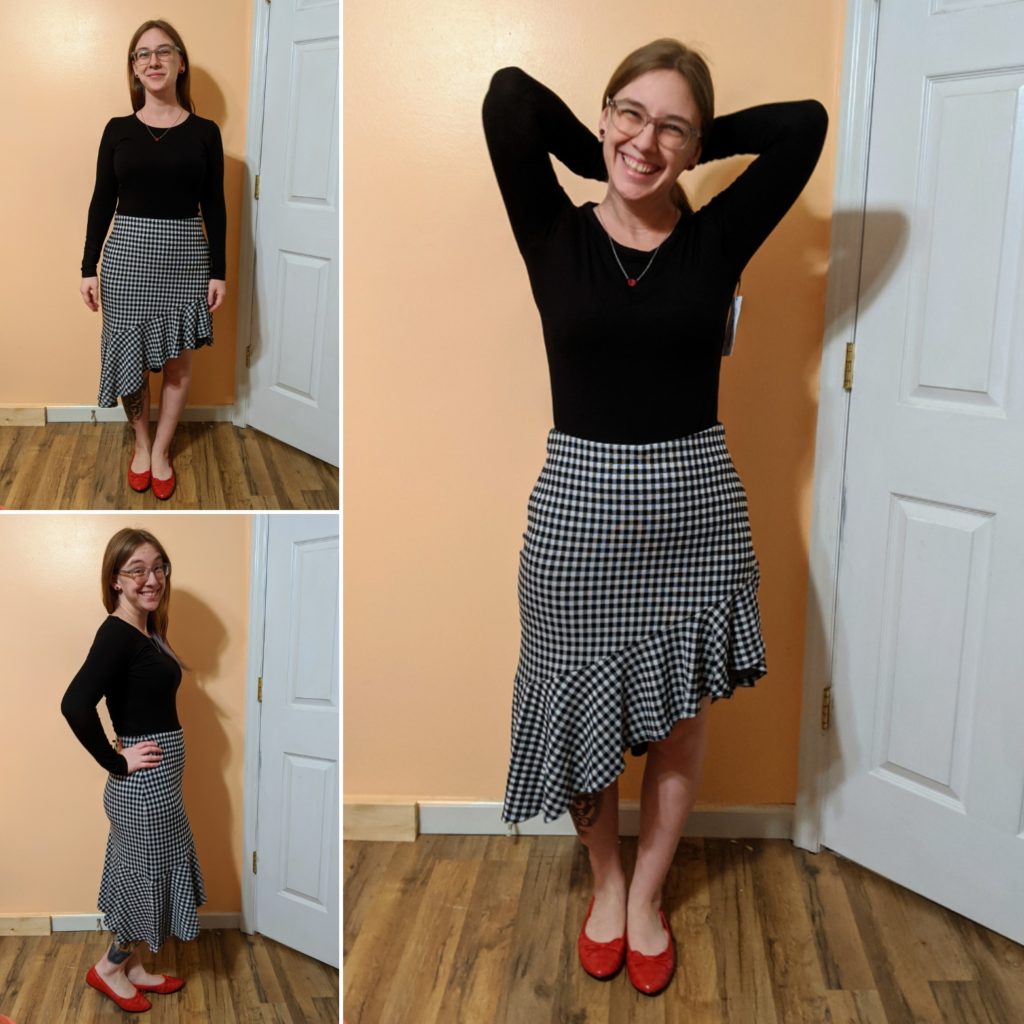 Finally – something that fit! I honestly have no idea where I'm gonna wear this skirt…it's too short (on one side) for work or church, and I don't really ever go anywhere else. I mean, outside of these bizarre quarantined times… Maybe I'll get dressed up for a TPAC show one day. I'm afraid the rest of this season is going to be cancelled, and that just makes me so sad. I didn't keep the shoes – they were a smidge too small. I have updated all my sizes on Amazon. Shoes kept being too small and pants/skirts/dresses kept being too large. So nothing's gonna fit in my next box.
---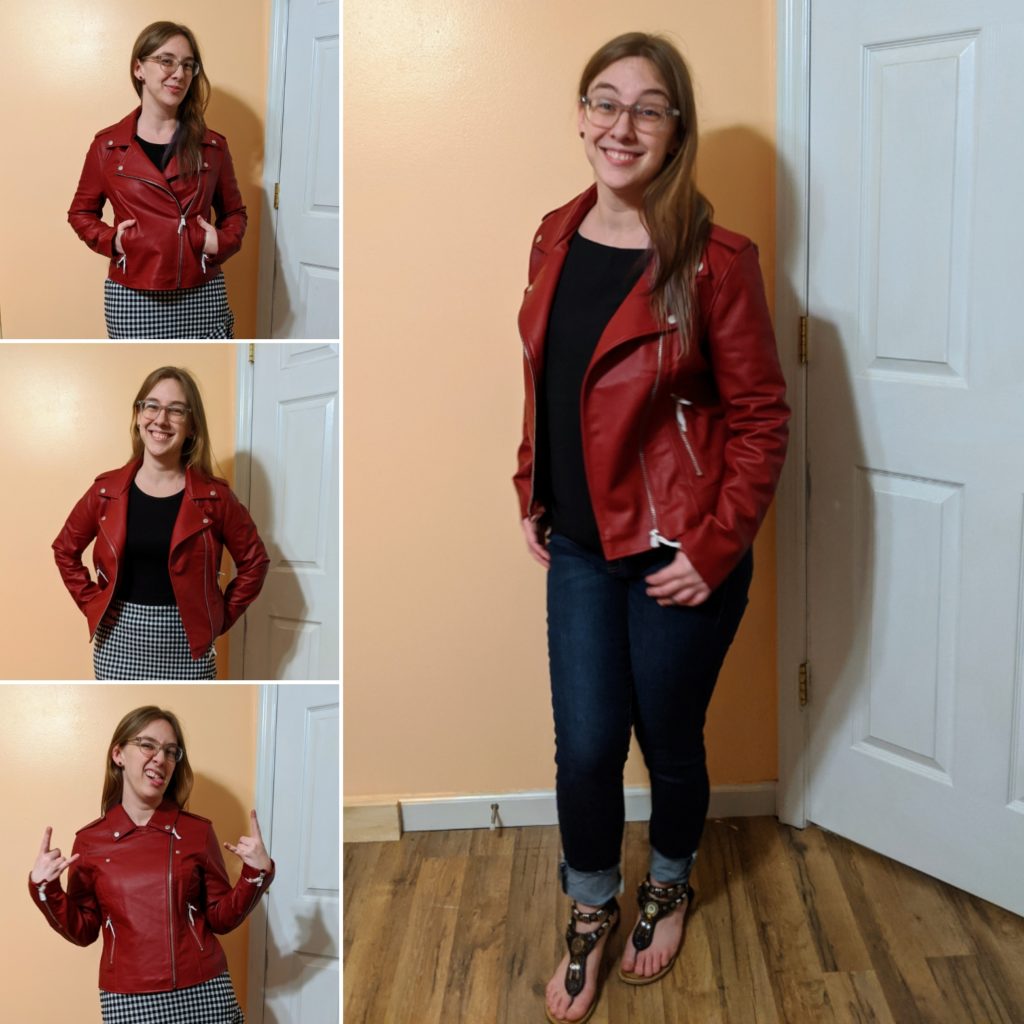 I liked this jacket. I liked it a lot. But it was $90 and this is the wrong time of year to be wearing a leather jacket. I hated to send it back, but I did it with the hopes of circling back to the leather jacket world near the end of summer and ordering a few to try out – see if I can find one that I really love. Also – "vegan leather" is just plastic, mmkay? Don't get pretentious.
---
Nordstrom Trunk Club, Spring Collection
I signed up for this one knowing the clothes were gonna be $$$. My coworker has gotten "trunks" from them a few times and has found some quality work items. But she and I both got $50 credit for me signing up (and she got another $50 after I placed an order), so I went for it. By the way, help a sister out and use my referral link?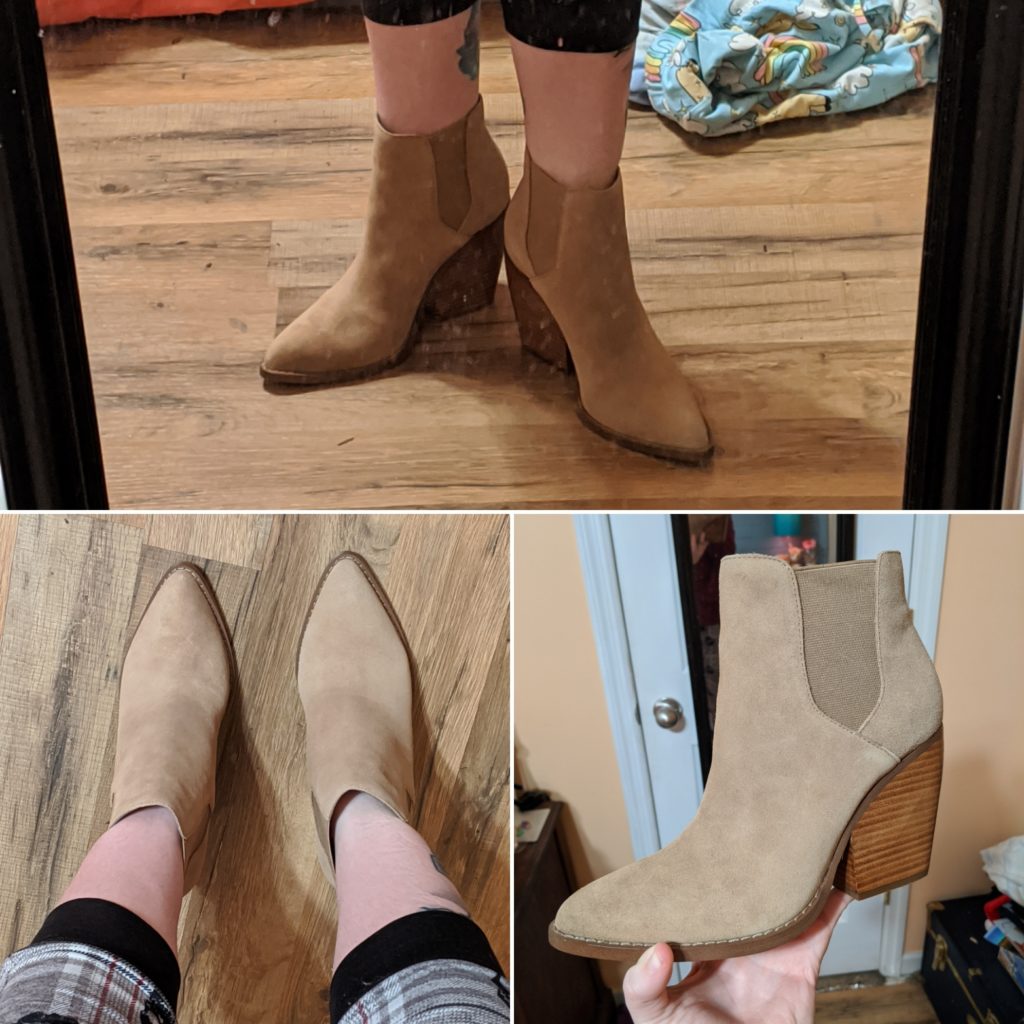 These bad boys were $90, and I was told that it was a great price. So already I know I'm not emotionally or financially prepared for this level of clothing. They were fine boots, but a bit hard to get off my feet. I have enough cheaper brown boots/sandals that I saw no reason to spend $90 on these, though.
---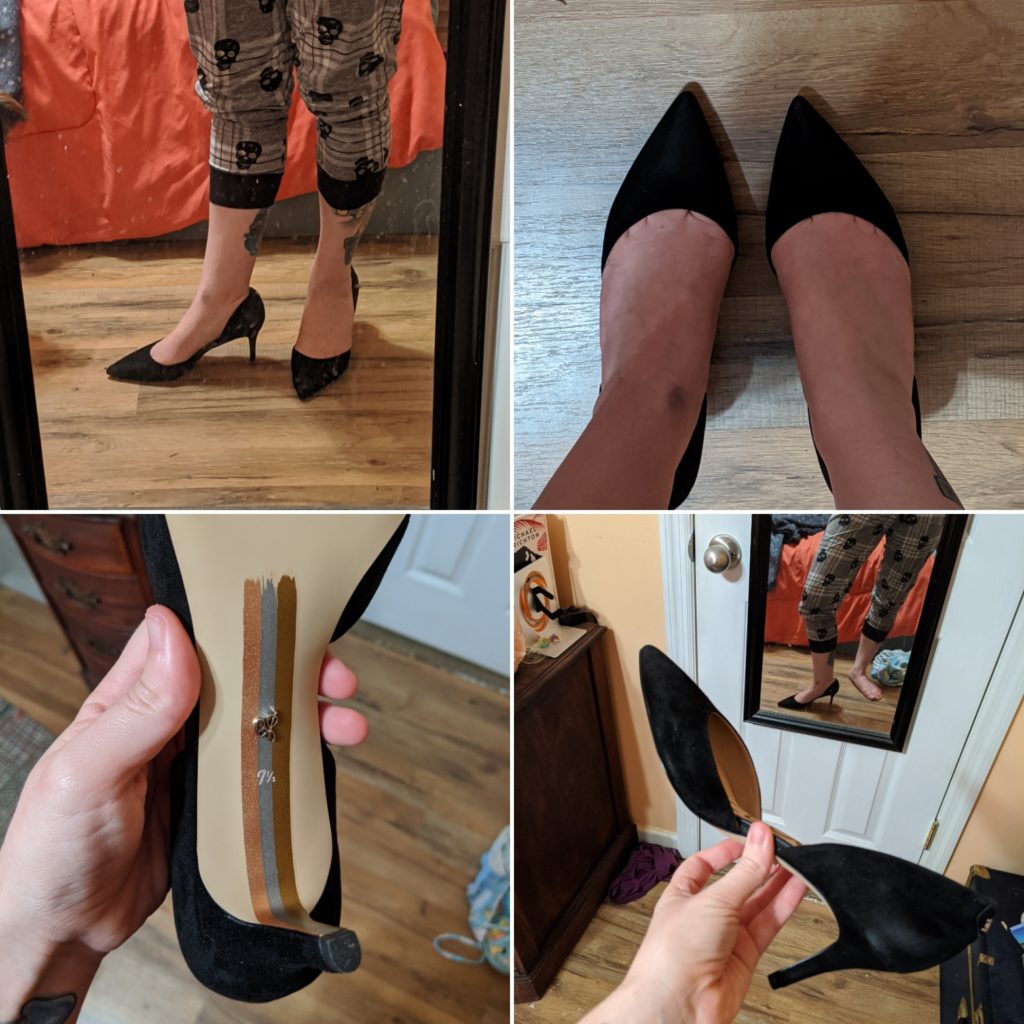 Apologies for the dirty mirror pictures, by the way. These shoes were bougie. With the price tag to go with it – $130. I hated that you could see my toe crack, but when I looked back on the photos of me wearing them with the outfits….I really liked them. I didn't $130 like them, though. I'm pretty sure I can find shoes that are good enough for under $100. Plus, I'm not wearing shoes at all right now, much less bougie-ass shoes. THESE SHOES ARE SO FANCY THEY HAVE 3D DOOHICKIES GLUED TO THE BOTTOM. The brand is Sam Edelman, and I've heard they're quality shoes, so if/when you ever want some bougie heels, check them out.
---
J. Crew – Everyday Chambray Shirt
Curves 360 by NYDJ – Denim Skirt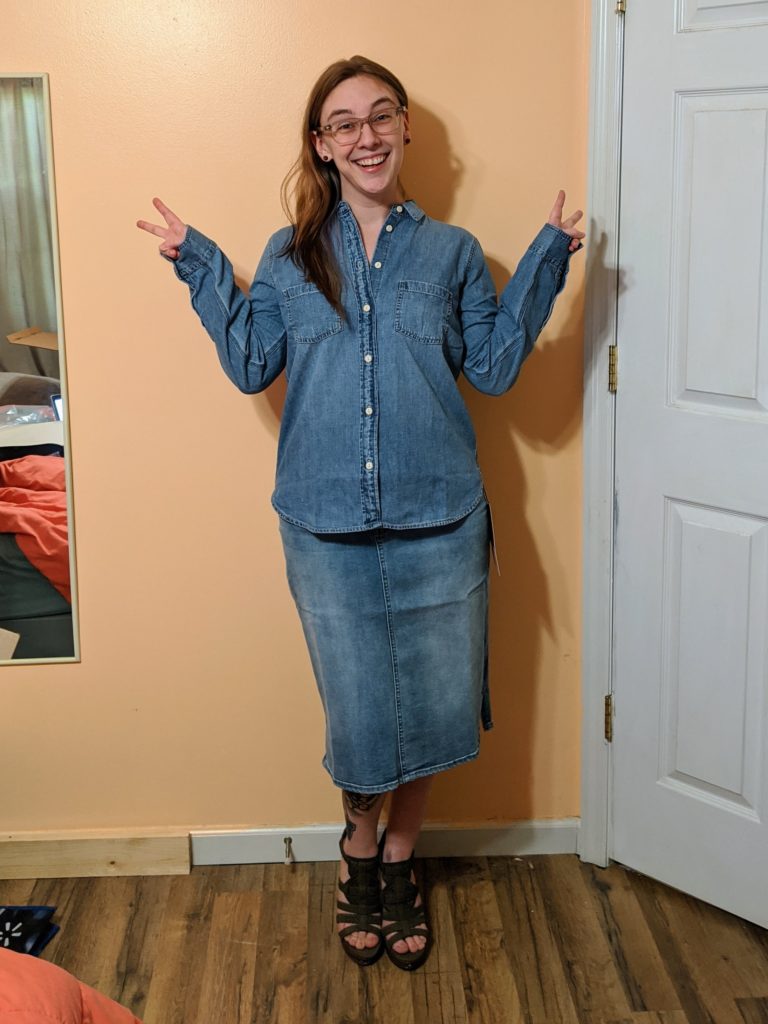 So the way the Trunk Club works is you get a "sneak peek" ahead of time of what the stylist has picked out. You can pick which items you want to try on, and request replacements for anything you canceled. But you don't know what the replacements are until they've already shipped. So she had picked a white button-up shirt and a denim skirt that hit between the ankles and knees. I said I didn't want them, so….she replaced them with a denim button-up and a shorter denim skirt. On the model, this skirt hit at her knees. If I had gotten the longer skirt it would 100% have touched the ground. I jokingly put them both on together as a "Canadian Tux" outfit. But, yeah. Did not keep either of these.
---
Eliza J – Ruched Sleeve Blazer
BP. – Trutleneck Ribbed Top
Sam Edelman – Jaina Pump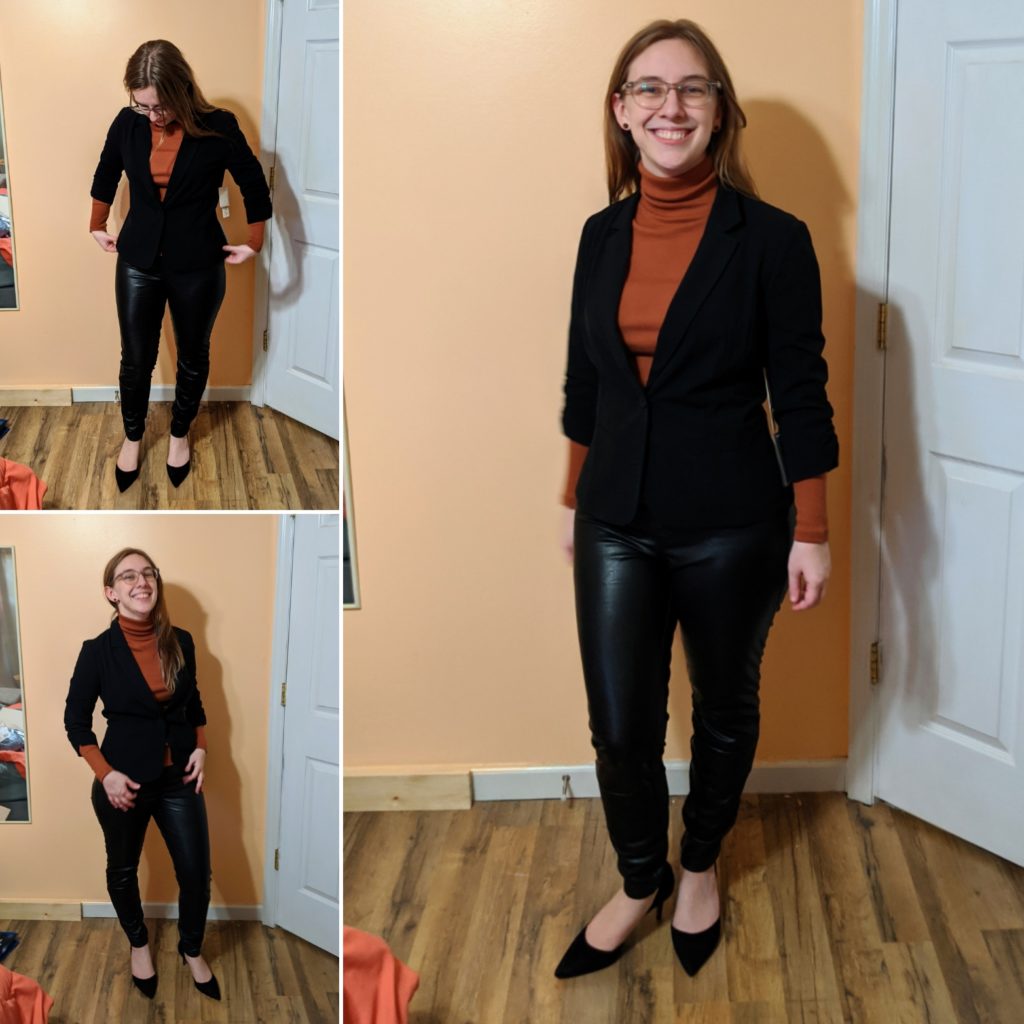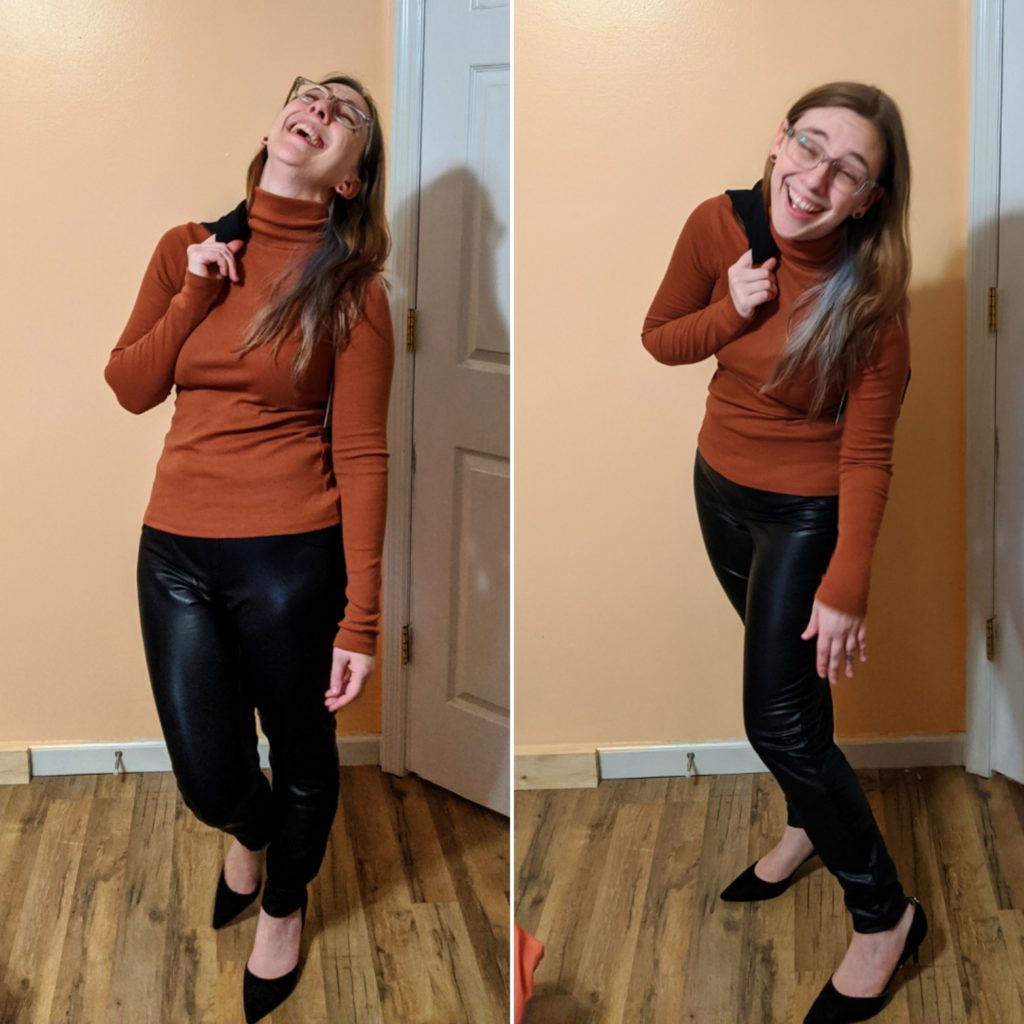 This was one of the outfits she picked out for me. First of all, it's April. Why in the HEYULL did she send me a turtleneck? Then again – why did I choose to have it shipped to me? I do not know. It was the cheapest thing she sent – only $19 – so maybe that was it? Like…maybe I don't hate them as much as I think? Oh, trust me, I hate them. I also don't love the whole "short sleeved blazer with long-sleeve top" look. I will admit it's less terrible than I expected – but that doesn't mean it's not terrible.
ALSO. I got two pair of "leather" pants and a pair of SPANX. I couldn't get any of them past my knees. They were all M, which I should've gotten a L regardless, but even then they were HALF the size of the pleather pants I had gotten from Amazon. There is no way a M should be half the size of a L. I couldn't have worn those pants when I was 100lbs in high school. They were laughingly tiny. I will not be posting any pictures of my attempts to wear those. But here they are as a comparison to my Amazon leggings: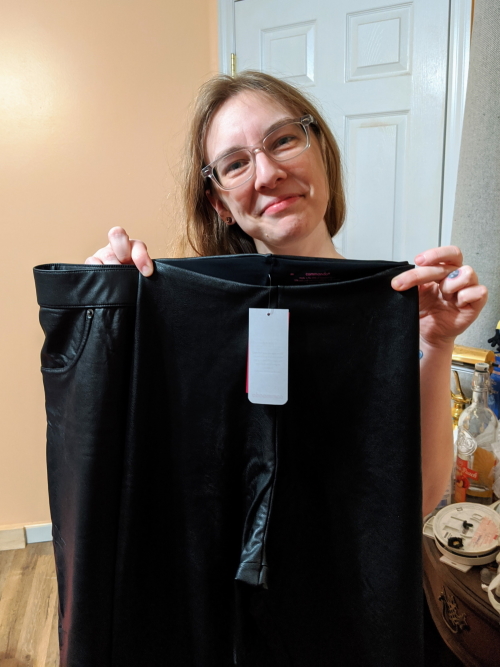 Also, also… I really hate turtlenecks.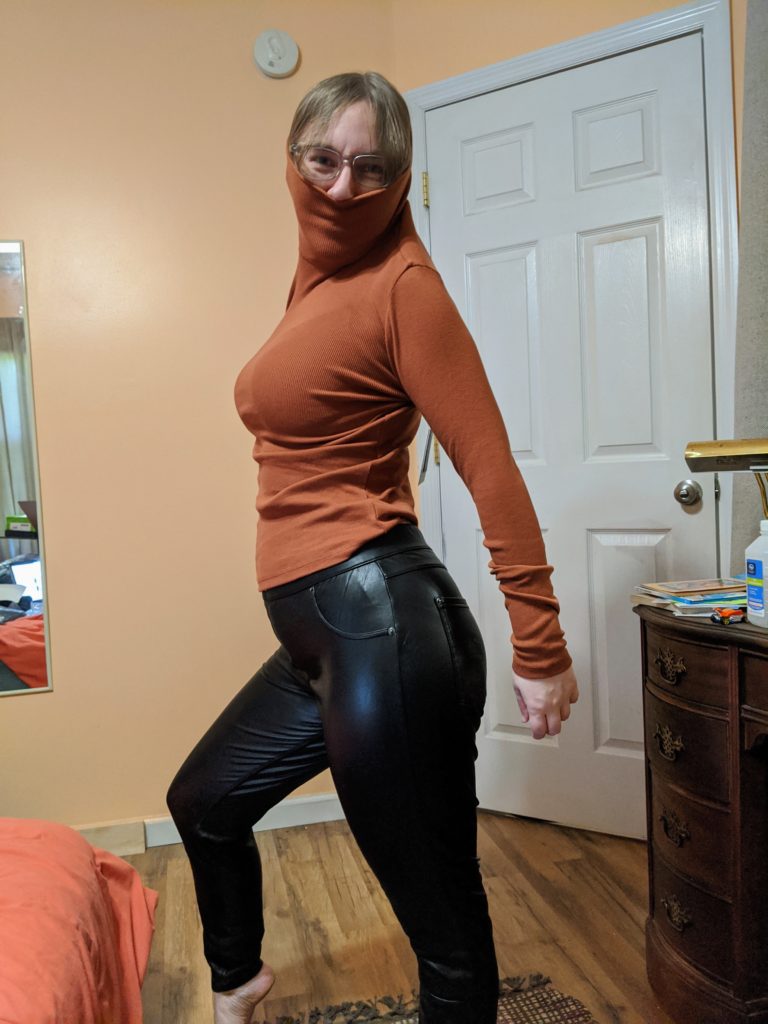 ---
Eliza J – Ruched Sleeve Blazer
Sanctuary – The Agent Gingham Stretch Cotton Pants
Sam Edelman – Jaina Pump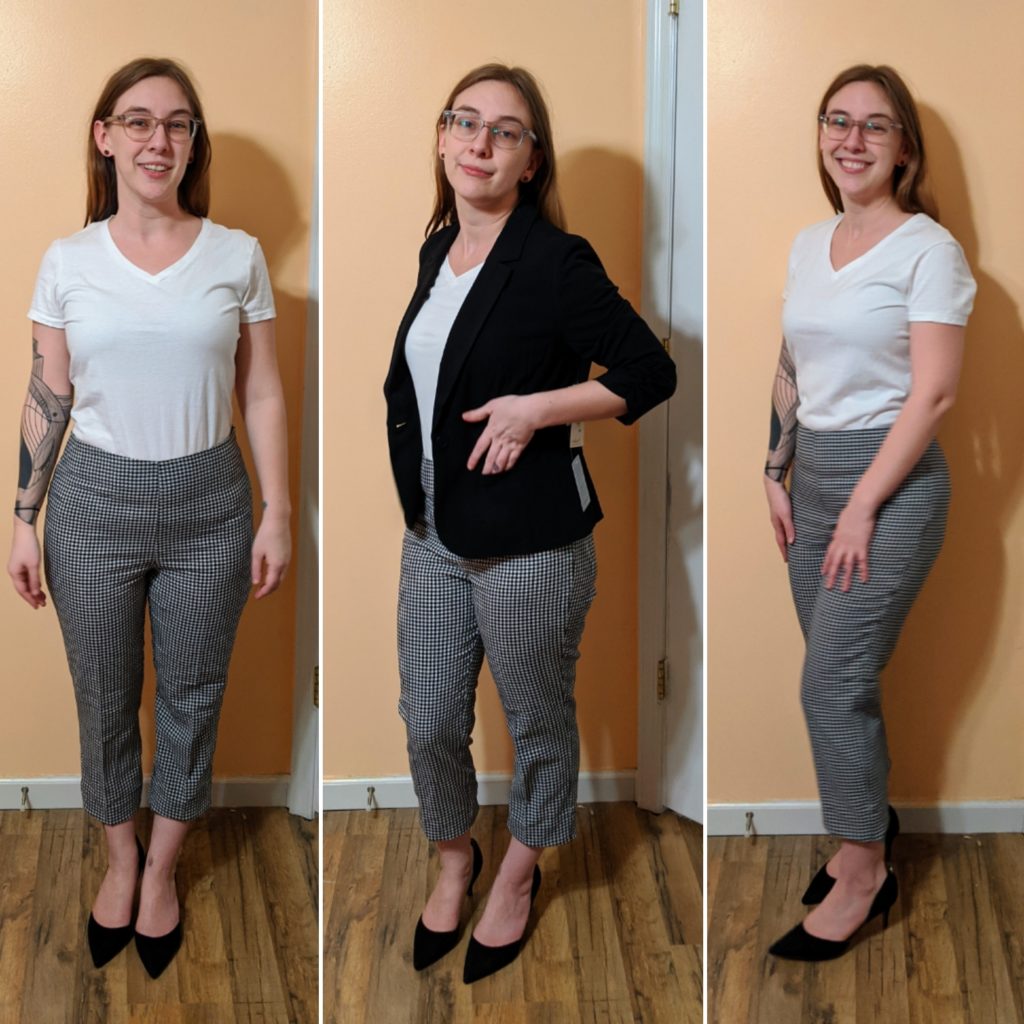 I liked these pants. I considered getting them. But they were $120 and needed to be hemmed (I folded them up for these pictures). They were nice pants, but I just don't need $120 pants right now. Much less $120 pants that will then need to be hemmed.
---
J. Crew – Everyday Chambray Shirt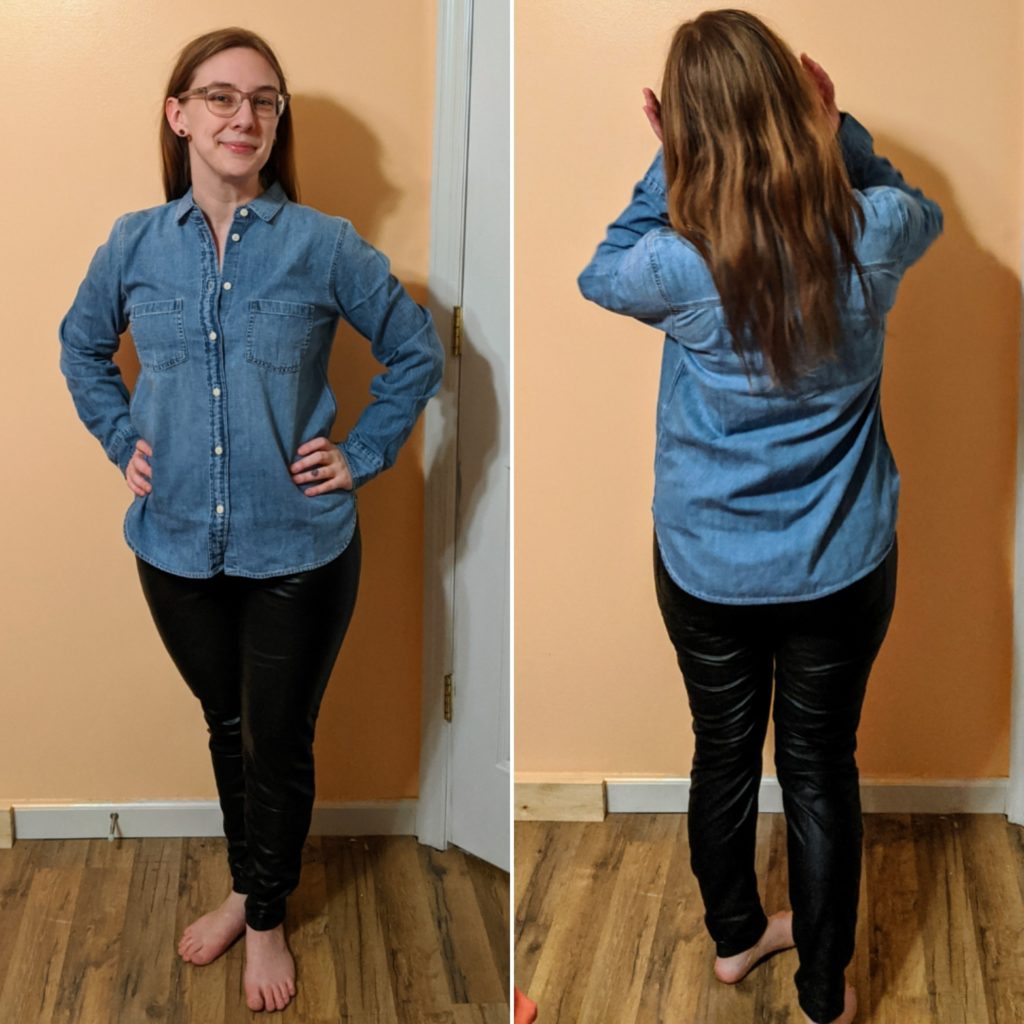 Here is the chambray shirt with a more legit outfit. It was cute. Did not buy.
---
BP. – Turtleneck Ribbed Top
Boden – Francesca A-Line Skirt
BP. – Lex Bootie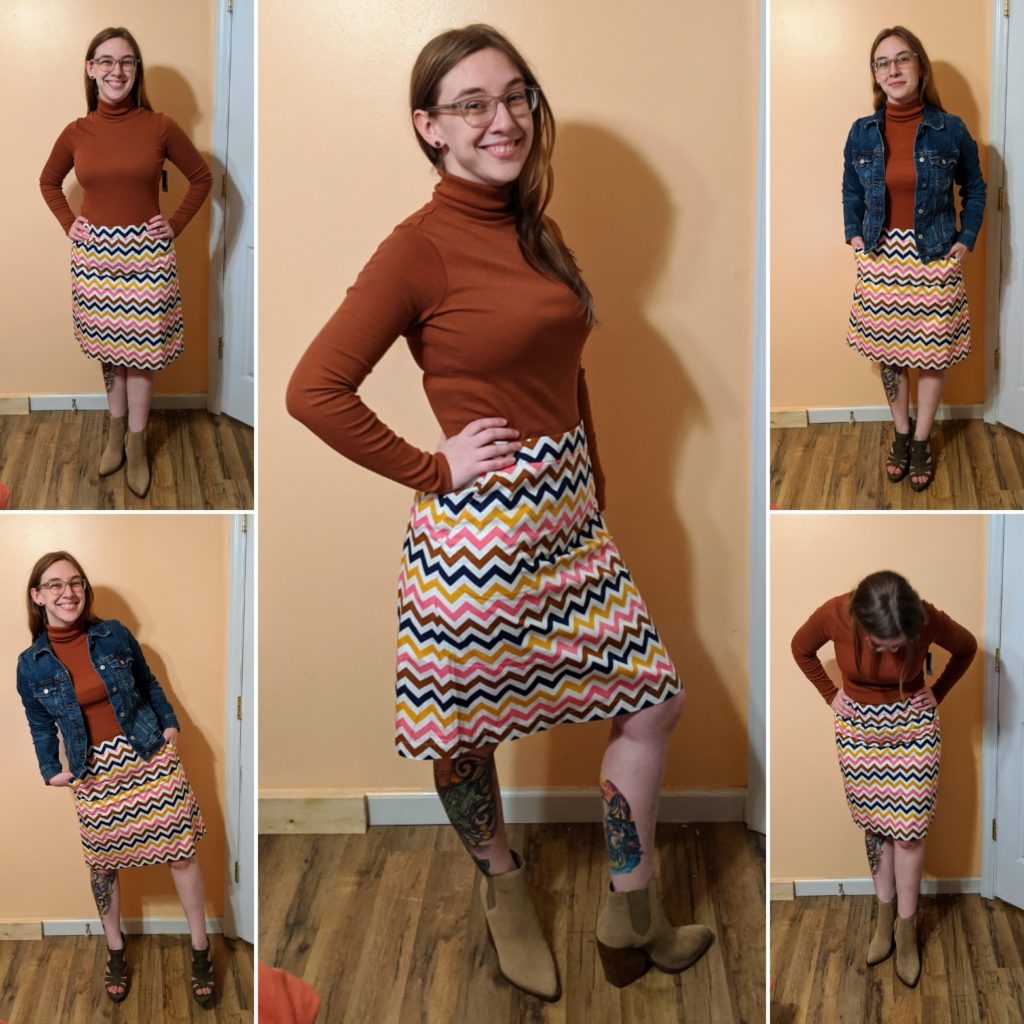 This was another outfit she picked for me. I mean, it was fine, but a TURTLENECK?? I also didn't love the boots with the skirt. I never feel like it looks good on me and my short legs to cut them off at the ankle like that. But! I really did like the skirt, and everyone that I sent pictures to liked it as well, so I kept it. But now I have to find a top to wear with it.
---
Madewell – Whisper Cotton V-Neck Pocket Tank
Sam Edelman – Jaina Pump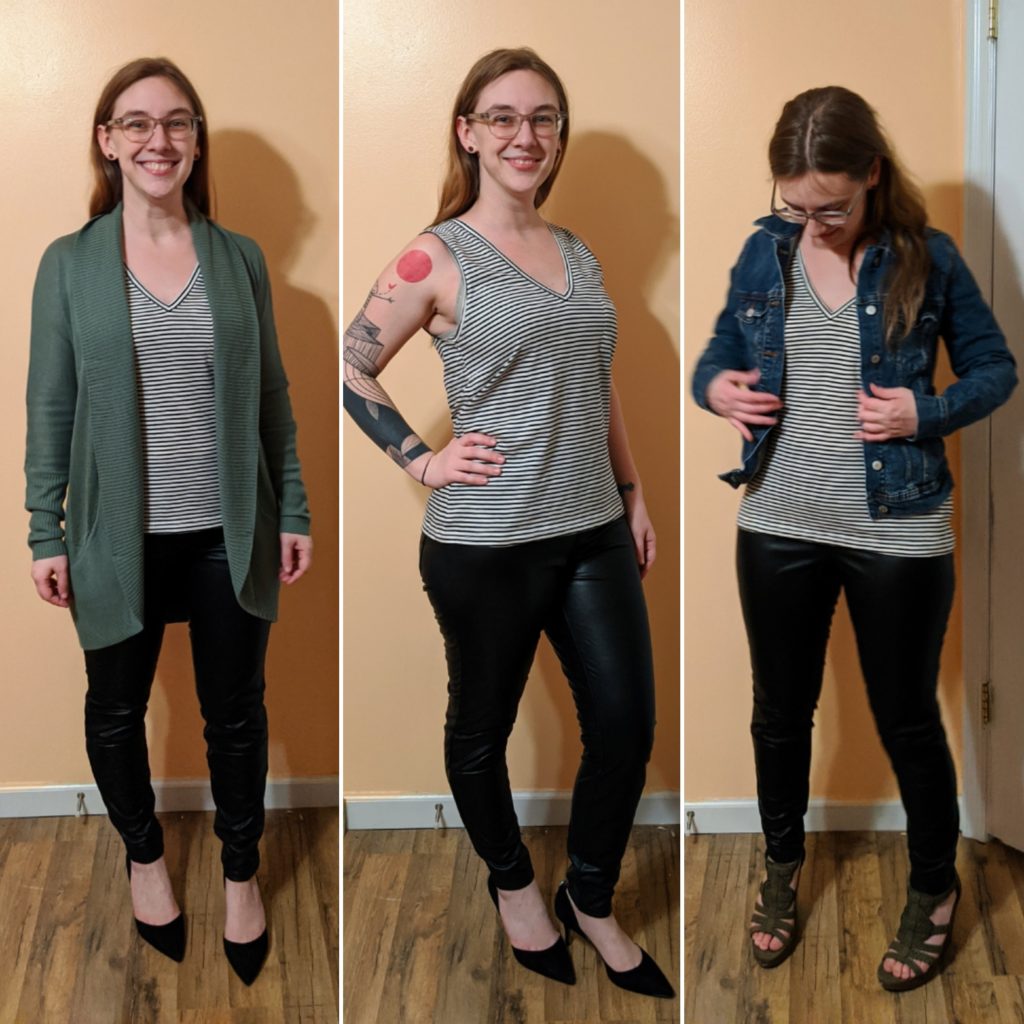 This was an add-on option. You get up to three add-ons with each crate. I got a pair of waaaaaay too small leather pants, a pair of waaaaaay too small SPANX, and this tank top. It was only $14, so I kept it. It does show my bra, like the tanks from Stitch Fix. But it was only $14, so… It will work well enough to put on under a cardigan or jacket.
---
Topshop – Turtleneck Sweater Dress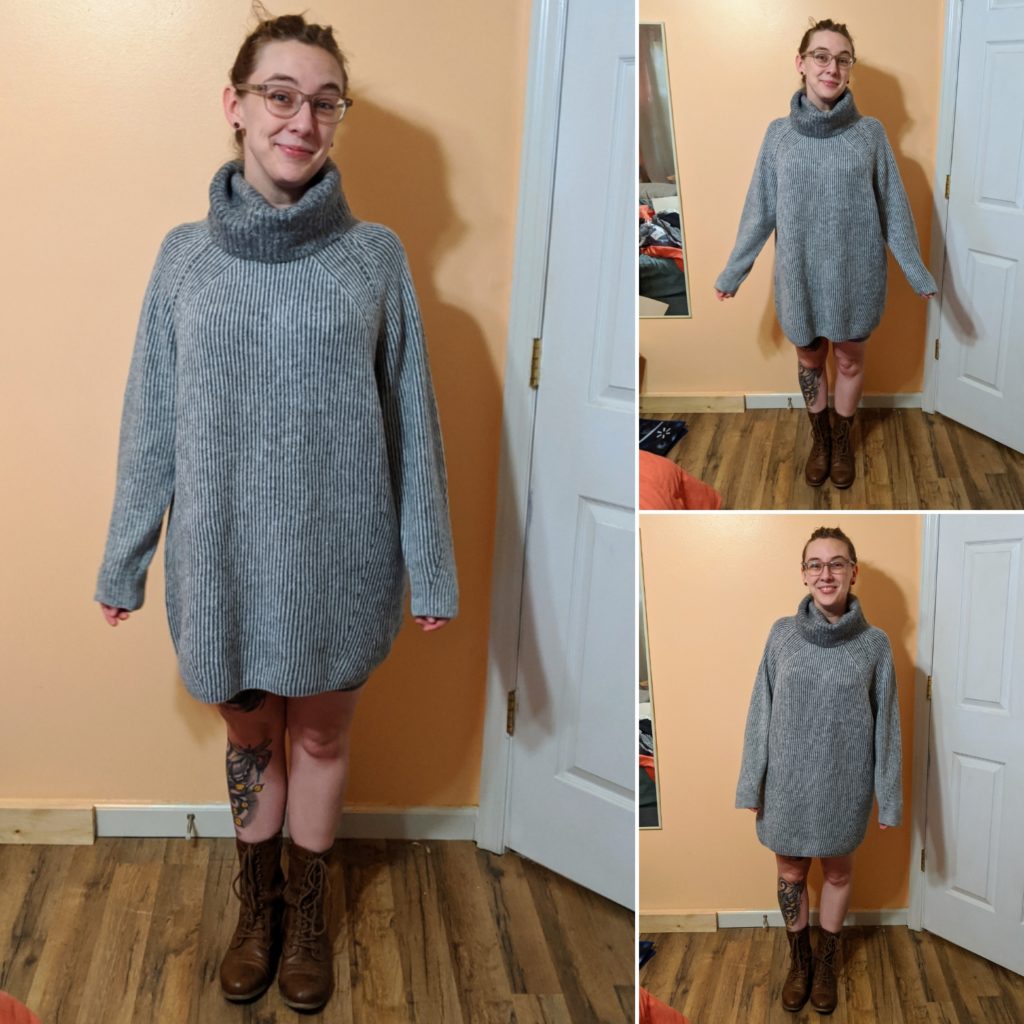 Yes, this is a knitted gray blob. Yes, it's a turtleneck. Yes, it's quite short. But by-golly it was comfy as heck and I kept it. Imagine it with my chunky black boots and some fishnet hose. I'm going to live in this dress come fall. You know, when people might actually wear turtlenecks. Not April, during a quarantine.
The best part about this dress? The outfit she suggested: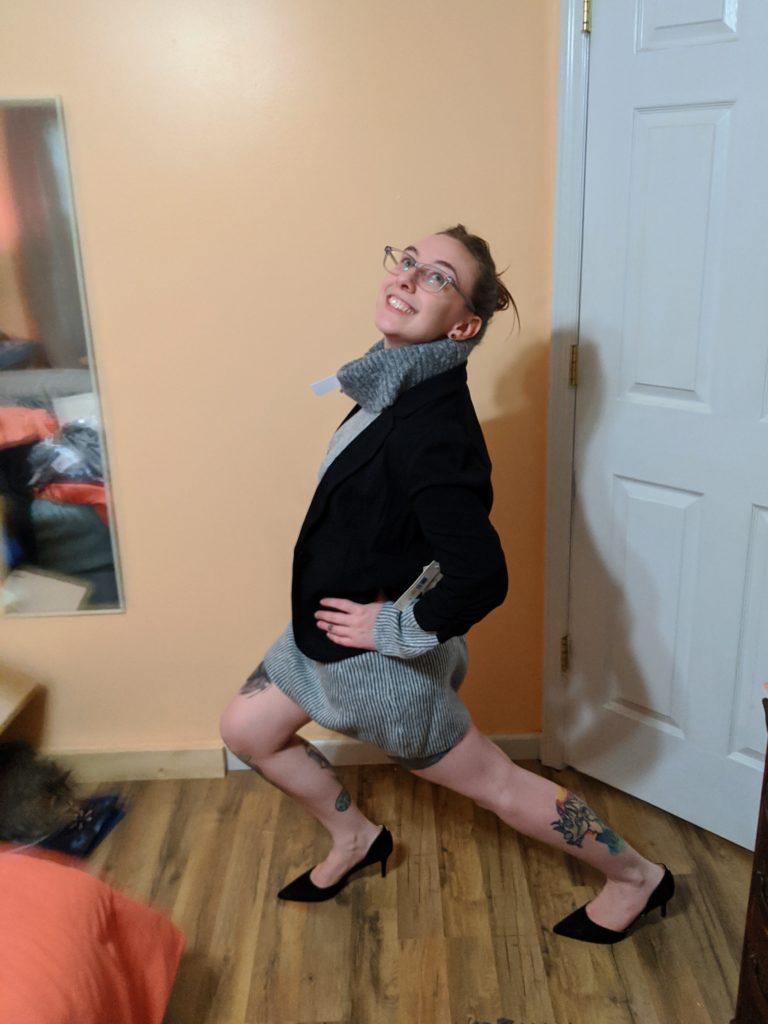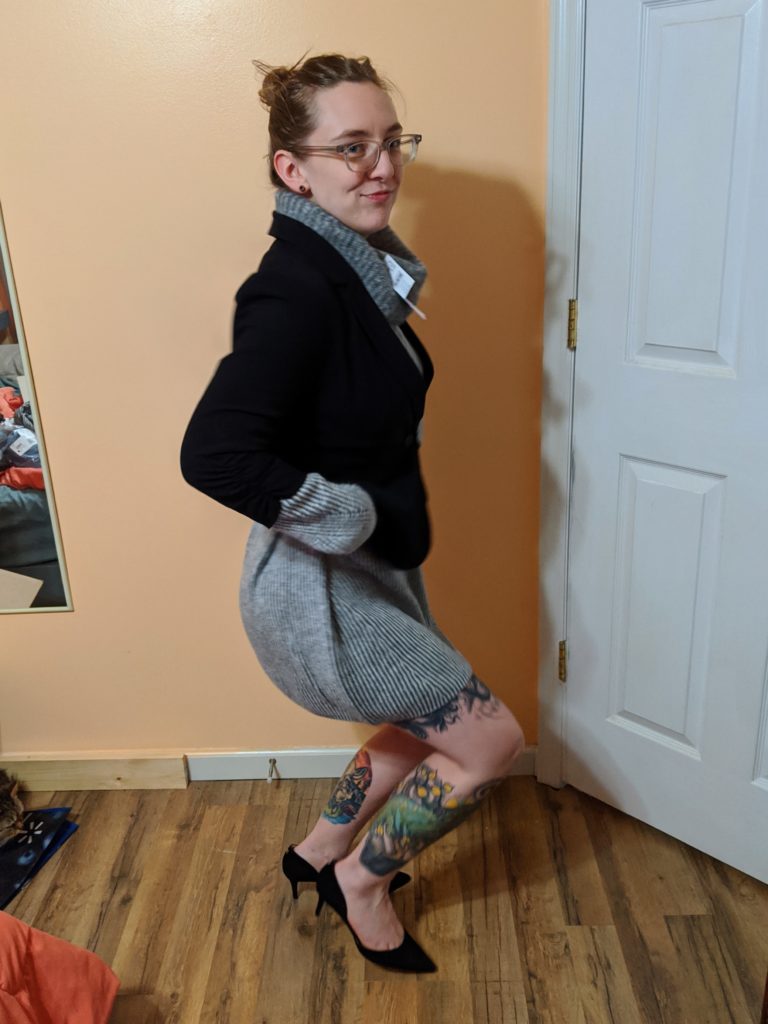 I just don't understand how this was supposed to work out. The sweater is SO CHONKY. There is no way it's going to look good under a blazer. And pairing it with heels….the only way THAT works is if you're actually wearing your boo-thang's oversized sweater and coming at them for some sexy time. At least in my opinion. Maybe people do this. I ain't one of them.
Anyway…. I'm not sure I'm gonna do the Trunk Club again. I might? I might try to see if I can request another stylist… idk. I'll probably still be quarantined in July, when the next one is set to arrive. OH! Speaking of… I got an email from them saying how nice it is to be able to request a "themed" box…their suggestions were all WINTER THEMES. Like…first of all…IT'S APRIL, AS WE'VE SAID…and also, my next box is coming in JULY.
So, I don't know. Questionable service.