Day 1 – The Kitchen
Oh I really like the way they're doing it now. Instead of just giving you a single project saying "this is what you must do today" they're saying "If you've got all day, do this. If you've got 10 minutes, do this. If you only have 1 minute, do this." So that's cool. Of course, I don't do anything even remotely close to when they said I should do it, so I split all the assignments into two blog posts am posting them as I finish the projects.
One thing I really wanted – nay, needed – to do from the Day 1 list was clean the oven. I've literally never cleaned it, and I've owned my house since 2012. Oops! Another thing I knew I needed to do was clean the coffee pot. Okay, if I'm being honest I needed to do everything she listed, for the 1 minute, 10 minute, and 1 day options. But still. Better some than nothing.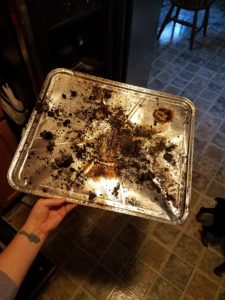 At first I thought my oven was going to be incredibly disgusting…then I realized most of the junk was contained to this disposable tray thing that is totally amazing. I ordered some silicon ones from Amazon to replace it, because omg that was so nice.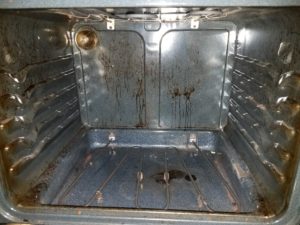 So, anyway. This is what it looked like with the tray removed. I'm sure to you it looks gross, but I was so relieved that this is how not-bad it was. So relieved. lol!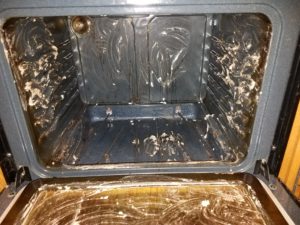 And here it is after I smeared baking soda all over it.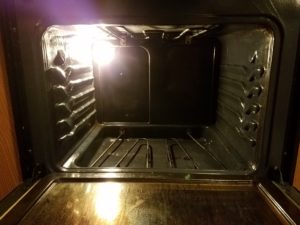 I really didn't feel like I was accomplishing anything while I scrubbed it, but it does seem to look cleaner in the after picture…that might just be a trick of the light, though. Also, while I was scrubbing it the oven light came on! It hasn't worked in years and now it works again! Magic!!
Day 2 – Moldings & Fixtures
Yup. I 100% don't care about my moldings. At all. That is SO low on the priority list I ran out of room on the paper before I even got to it. But! I was totally down to dust the fans and clean the light fixtures. I've dusted the fans a few times over the years, but never cleaned the light fixtures. I really needed to replace bulbs in several places, so I finally broke down and got some nice LED bulbs. I even wiped down door knobs!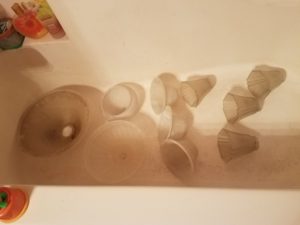 The lights were super gross, guys. Very, very dusty. They were also a HUGE pain to take down from all the ceiling fans and various other fixtures around the house. I did six fixtures in total, I think. But most of them had multiple bulb coverings.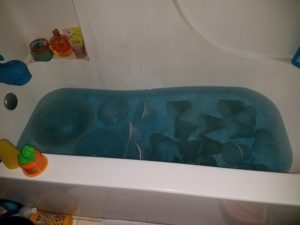 I used so many denture cleaning tabs. So many. But I bought a box that contained about 5 million of them, so I maybe used half. I guess I can always do this again one day? Ahahahahaha – I crack myself up. The bathroom was very minty fresh, though! Which was much better than when I had to pour a bunch of bleach in the tub.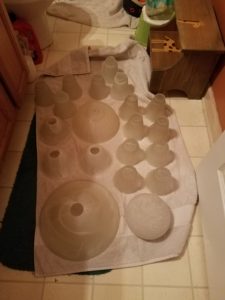 And here they are drying! I mean…it did get all the dust/grime off of them without me having to scrub, but I don't know if just using hot soapy water would've achieved the same? Or just doing bleach? Or just doing denture cleaner tabs? This was a huge PITA project that drug out for 2-3 days because I was so. over. it. by the time I had to start reinstalling all the bulb cover things. I probably won't do this again for another 5-10 years. And now I just want to buy new lights for basically every room in the house, so thanks a lot, Apartment Therapy!
Day 3 – Declutter
I had a yard sale back in April and did not sell nearly as much as I had hoped. But I did make a little bit of money and got it all at least a bit more manageable. I've scheduled a Goodwill pickup, and absolutely cannot wait to have my garage back. CANNOT WAIT. But if I wait until I've totally finished this one to publish this post, it's never going to get published. So whatever. The garage should probably get its own post, anyway.
Day 4 – The Floors
Heh. "Now is your chance to just be a little more focused and deliberate about the areas of your floor that don't get regular attention." That is…all of my floors. So I just swept/mopped. There are too many people/animals in the house for me to be such a lazy housekeeper.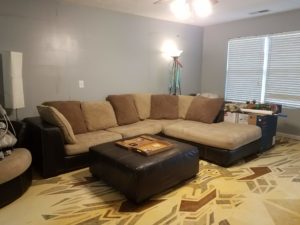 I did clean up and reorganize the living room, at least. You can see my floors now, which is more than I could say for the situation last week… Of course, now that you can see the floors you can see the design my ex painted on them and that makes me sad. I want it gone, gone, gone.
Day 5 – Your Furniture
I decided to rotate my mattress. Since I have a king-sized bed it's basically just a square, so I rotated it 90 degrees. Boom. Done.