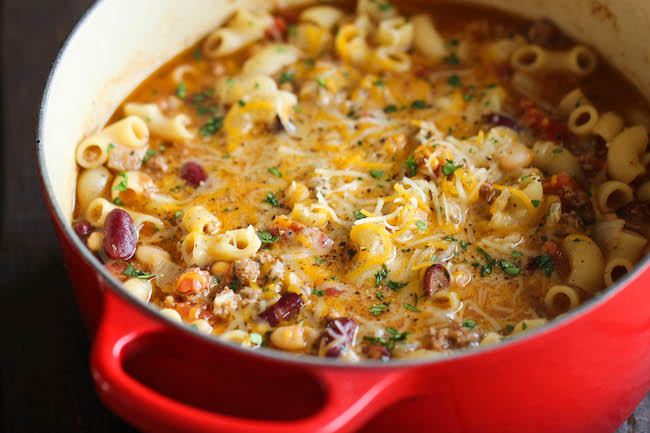 It goes without saying that ours looked nothing like that.
First of all, I accidentally got a can of tomatoes that had jalapenos in them. Wasn't necessarily a bad thing, though – it's chili, right?? We couldn't find white kidney beans, so we got chili beans instead. I'm not sure what that did to the flavor, but our version was delicious (spoiler alert!) so there's that. I totally forgot about parsley until just now when I was looking through the ingredient list…WHOOPS. Still, tasted amazing. No big loss (unless it's amazeballs with the parsley – this is a possibility). One of the most crucial changes was replacing the elbow macaroni with shells. <3
Anyway, here is what ours looked like:
But then we kicked it up a notch (BAM!):
What's the difference you ask??
VELVEETA
Game changer, brah. Game. Changer.
Anyway, we both stuffed our faces and there were still about five servings of leftovers. I give this recipe…